As I head towards my 30th birthday I've decided to look back and recall the major events of each decade of my life. I've chosen to break the second decade into 3 parts, as each part is significant and vastly different. You can read about the first decade here and the second decade part one here.
Honestly, now that I sit down to write about high school I just don't know where to begin. The combination of simplicity and complexity that is high school sort of overwhelms me. It's SO simple. Yet, there was SO much about high school that I could go into. Hmm... we'll see where this post takes me.
Freshman Year:
So I left off being madly in love (again) at my eighth grade graduation dance. The summer going into high school just solidified my budding romance with who I now refer to as my high school love. Freshman year is a blur to me. It was ALL about him. I played basketball on the JV team (although I was really terrible). I ultimately decided to go out for Cheerleading and made the Varsity team even though I was going to be a sophomore. I was on Varsity with several other sophomore friends and this is basically all I remember about my freshman year.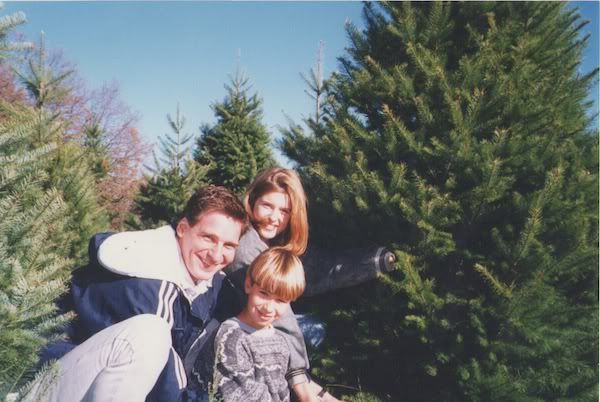 Cutting the tree down existed even then!
Sophomore year:
Same boyfriend. I'm a cheerleader and loving it! I've made friends with a few girls from the dance team and so I have much more of a social life outside of my boyfriend this year.
Let me interject here and take note that I almost never mention my parents or home during these years. The reason for that is that the natural shift in influence from home to school peers had taken place and I was very absorbed in my boyfriend/friend relationships and therefore that's what I remember most. I will add that home life had improved much over the past two years since the 8th grade. My grades in high school were decent, with the exception of math. I never put my full effort into school (I have always been more of a social butterfly than a studious person) but I got by just fine. My relationship with my parents was good. They liked my boyfriend and he was included in ALL household activities. They also approved of my friends and my activity choices. My brother and I weren't that close because the six year age gap made this time for our relationship challenging as we shared a room and I was 16 and he was 10 - which means he annoyed the crap out of me and showed my bra to his friends.
Okay, home life - check!
Back to the good stuff. My sophomore year was really fun. I loved my core group of friends. We spent a ton of time together doing regular things. Shopping, football games (duh, we were cheerleaders), sleepovers and school dances all involved all of us together all the time. I LOVED it. And I loved being involved in cheerleading. Ultimately there was a lot of drama revolving around the cheer team (when isn't there?) and so I decided to try out for Dance team in the spring. I had a good girlfriend who was on the team and so that was a smooth transition as well. I kept my group of cheerleading friends (who now no longer did cheer either - although I honestly can't tell you why. I don't remember the drama... something about not having a coach?) and I still had the same boyfriend. We definitely had lots of drama. I couldn't even begin to tell you over what though. High school stuff I guess. I know I was VERY jealous of a certain mutual friend that we had and (because of my previous relationship with the guy who used drugs) I forbid drinking and drug use of any kind. But, we were in high school and he would want to experiment (mostly with drinking) time and again so he would lie to me about it and we would talk all night crying and break up only to decide two days later that we simply couldn't live without each other. This happened several times, but we were STILL going strong two years in.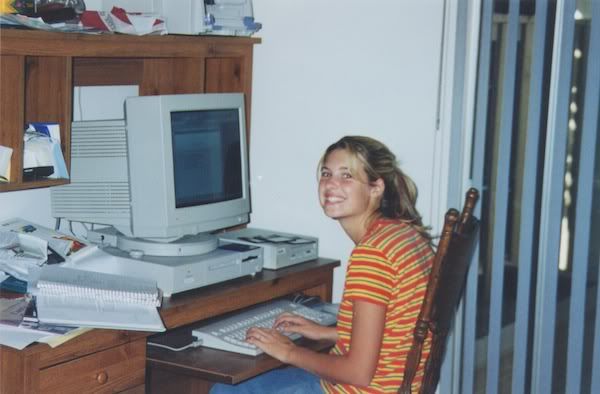 Studying hard :) Note the extremely old computer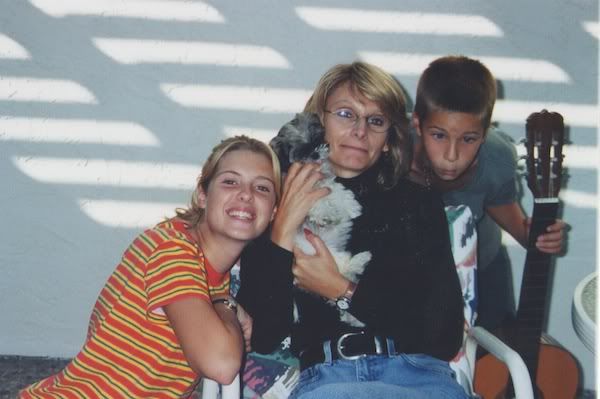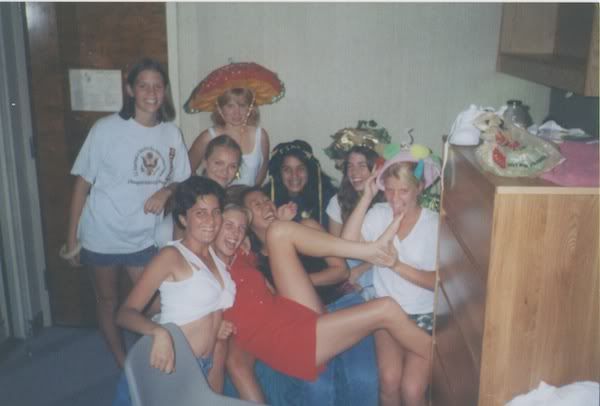 Cheer camp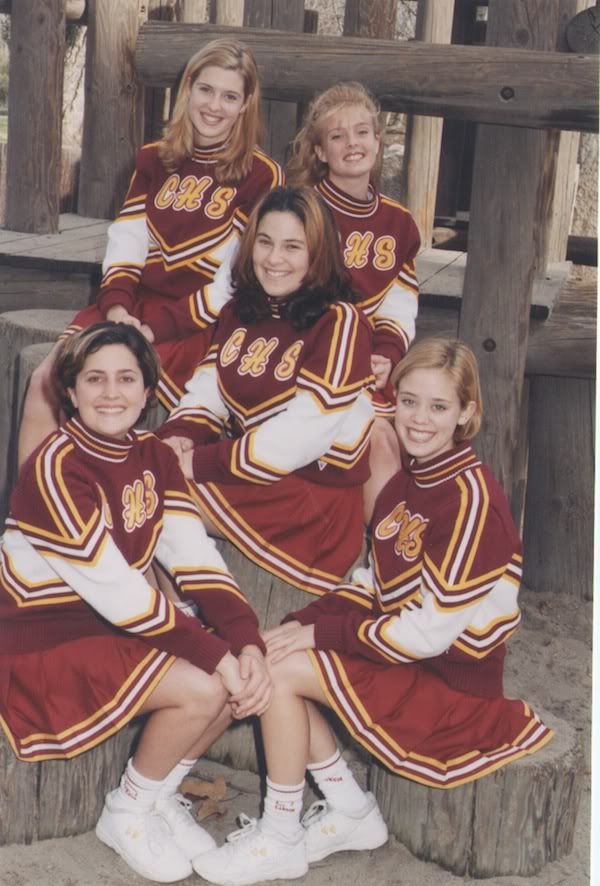 My good cheerleading friends
My sweet 16 party was a boy/girl party! Haha! It was daylight and my dad was there the whole time and it was lame (but fun!!) I just wanted to do the classic "have a boy/girl party on my sweet 16"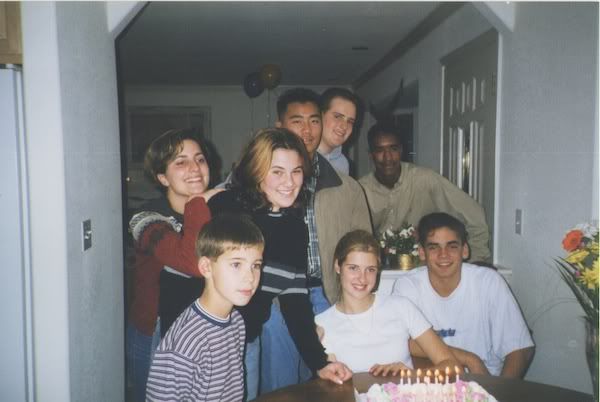 Junior year:
I'm now on the dance team which was a huge time commitment. I loved every minute of being on dance team. My coach was my idol. I loved the friends I had. I lived for competitions and practice. It was seriously my life. I had my other friends still from cheerleading, but we eventually ended up drifting apart slightly because I spent most of my time with the people in dance team or my boyfriend. Junior year definitely had some drama.
I have very few regrets in my life, but one of the few I have is something I did in my junior year of high school. My boyfriend had a close friend who was dating a close friend of mine. Now, this is a LONG freaking story with far too many details to share with you all in one blog, but basically I kissed my boyfriend's friend (a few times). That's all that happened but it spiraled an insane turn of events that still make me sick to think about. My boyfriend found out, but decided with us that it was best not to tell anyone - including this guy's girlfriend (one of my closest friends). He felt too guilty to keep their relationship going though and broke it off. So, now I have my boyfriend (who's not sure he wants to be with me and has lost his best friend) and this other guy (who I would have broken up with my boyfriend in a heartbeat for, but he totally regrets what happened and really wants nothing to do with me) and my friend, who is clueless and coming to me over her heartbreak. From her boyfriend breaking up with her. Because of me. Ugh. It was a complete mess. To make matters worse she seriously was the nicest, most sincere person I had ever met. She was nothing to me but a true friend and I hurt her very badly and covered it up. She did eventually find out and I still haven't spoken with her since. To this day I would like to apologize and maybe it doesn't mean anything to her anymore, but she didn't deserve that from me or anyone.
Okay, so there's the bulk of the Junior year drama. My relationship was steadily unraveling and we were grasping at the threads, trying to keep it together. He cheated on me (I think it was that year? I'm pretty sure it was before I even cheated on him. We were, like SUPER together). The point is, we kept trying to make something work that just didn't.
It was a fantastic year otherwise because I went to Florida with my dance team and had a blast at Junior Prom and just enjoyed all of the typical high school shenanigans.
I'm not even sure where to begin on the kind of fun that was had on the Drill team. Maybe this picture can start to explain... Yes, it does say "This would be so much better if I were naked Spur". We were the Golden Spurs and that was my nickname.
Clearly my bro and I wanted to take pictures with my dad.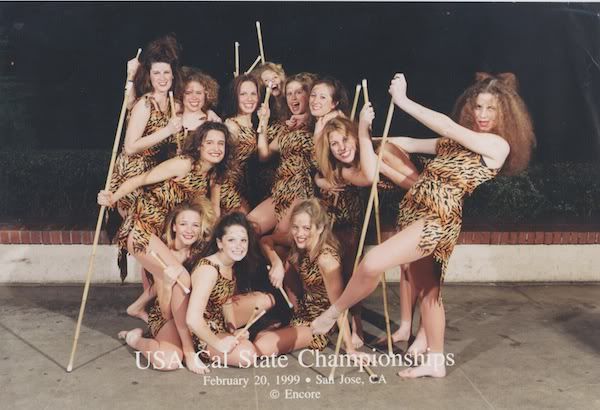 More dance team fun.
Florida Disneyworld!
Junior Prom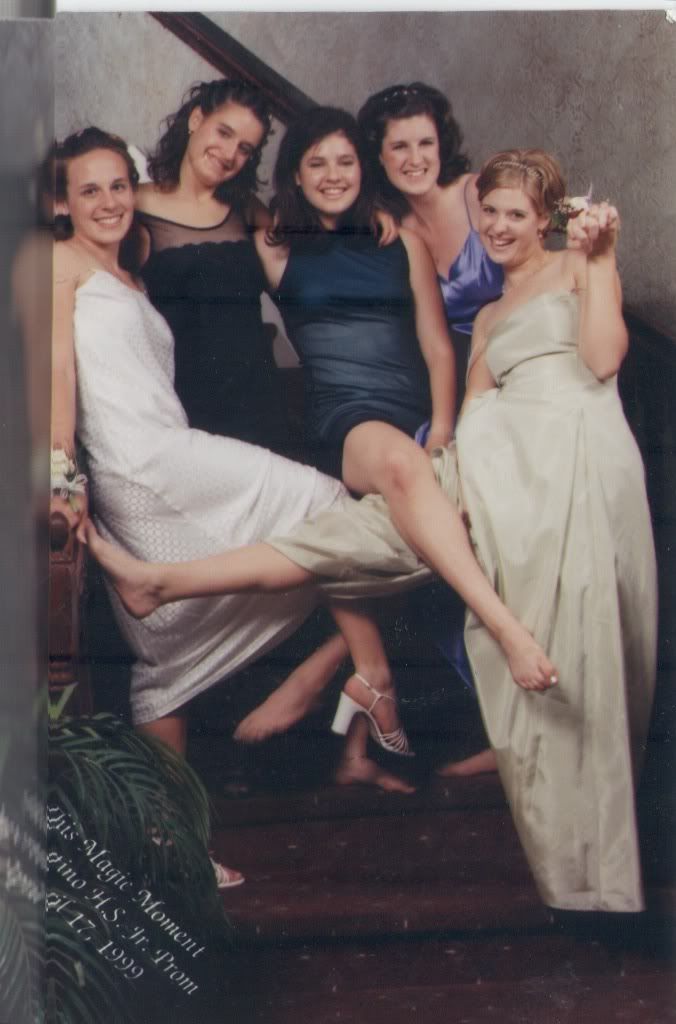 A group of dance team friends at the prom
I've always enjoyed eating.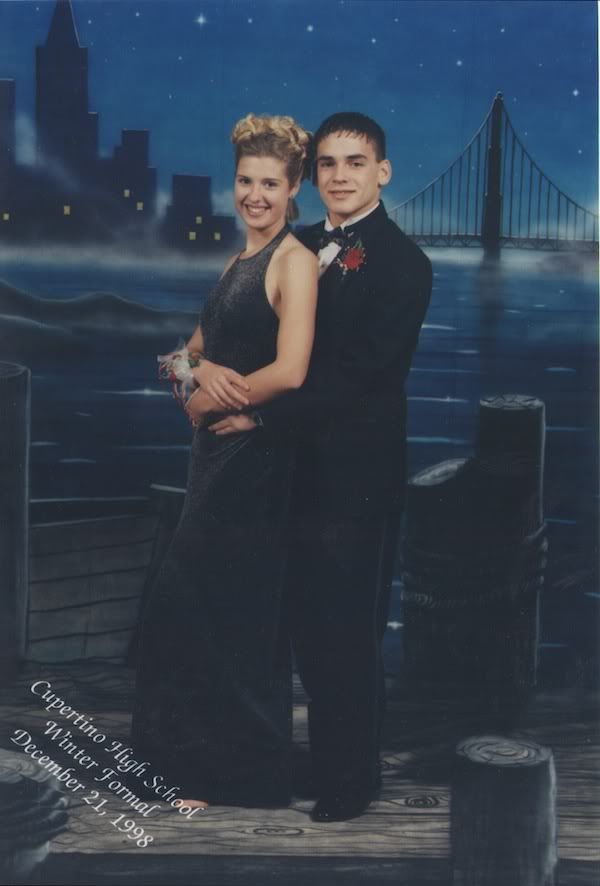 Winter Formal my Junior year
Senior Year:
I remember starting senior year in a really good place. Still with the boyfriend (despite the never ending problems at this point) and still had great friends. I was still on the dance team and really enjoying that.
I want to say that the shit hit the fan in October? I can't honestly remember, but it was before winter formal. Also, before Spirit Week... does anyone remember what month that happens in? Because, yes. That's when my senior year took a dump. All over me.
My boyfriend (seemingly out of nowhere because things had actually been going fine!) broke up with me. This wasn't the same get-back-together-in-two-days sort of deal we had been doing for 3 years. This was serious. We had been recently talking about moving in together and going to San Jose State and we were about 5 minutes away from marriage when all of this went down. I remember I had already applied to SJSU and now needed to quickly apply to other schools because the new goal was to NOT go where he would be. I was completely devastated. I think we had 3 classes together or something (out of 5 - ugh, torture) and I worked in the guidance counselor's office and she helped me to miss most of them for a good week or two. I couldn't stop crying. I have a vivid memory of my mother bringing me soup and spoon feeding me because I hadn't eaten in two or three days. My heart was completely broken. And, he seemed fine. Just so glad to be rid of me. I know there was animosity from my cheating on him and him wanting to be more like others and party and drink without me nagging him about it. But, later I did learn that he had found someone else and had moved on prior to even breaking it off, so I think that's what made the breakup really stick.
In any case. It's October and I'm single and also lost a huge network of friends that I learned were basically just friends with me because I was dating him. Awesome. Oh, and my friend found out that I had kissed her boyfriend the previous year and hated me. Which meant the other friends I had that were mutual were pretty much gone, too. I clung tight to my dance team friends and they pretty much saved my life until that spring.
But, back up a sec. Because before I can tell you that story I have to tell you that I got a new boyfriend QUICKLY after my other relationship ended. I was SO used to being involved at that point that I didn't know how to be without a boyfriend. I was four months shy of 18 and hadn't been single since I was 14. I didn't even know who I was without someone else. So, what does any level headed 17 year old girl do in that situation? Why, she finds herself a new man, and quickly that's what. Oh, and to top it all off she makes sure he is a HUGE a-hole. Yup, that sounds about right.
So, I'm with a-hole and it's spring. We've been dating since October-ish and are going strong. I'm in L.O.V.E. BIG TIME. This guy was a definite a-hole, but drop dead gorgeous as well. I seriously couldn't resist him. Plus, I didn't want to be single again (God, forbid!) so I stuck it out and made him my world. Now, remember the fabulous dance team friends I mentioned? Well one in particular had been a very good friend of mine since freshman year. We had had many fights and were somewhat off again on again but during this year were definitely great friends. Anyway, my a-hole made some remark to her about her boyfriend that was racist (the kind of thing that this guy found hilarious and I did not. I'm so not proud to have been with someone like this and do not believe that racist comments are acceptable at ANY time. Just thought I should make that VERY clear before I continue) and I didn't believe her (although now, I totally know it was true). I was angry that she would hold me accountable for something my boyfriend said (since I hadn't said it and had no control over what he said) and she was angry with me for not being mad at him for saying it. At least this is how I remember it going down. Anyway, words were exchanged and in the middle of a dance team practice she ended up jumping on my back as an attack. I wasn't injured, but I was PISSED. I tried to get her removed from Prom, but I had slapped my ex boyfriend for dating a dance team mate a few days prior (see? the whole year was just awful!) and had gotten off easy for that so my request was dismissed.
So, now I have a few acquaintances left and this boyfriend. Who is, remember, a total a-hole. We went to prom and not only did, like, 3 other people have my exact dress but my lovely boyfriend ignored me to play poker all night long. Oh, and to top off that glorious event some chick I didn't even know tried to kiss my boyfriend on the bus ride home (we all had to take a bus because the Prom was on a boat in San Francisco - which also made it winning because there was no escaping the damn thing).
So, there you have it. I graduated high school with no close friends and a winner of a boyfriend. I didn't participate in ANY of the graduation celebrations (grad night, senior trip - none of it!) and cried during graduation. I remember my mom saying how sweet it was that I was emotional about graduating when I was really crying because my jerk boyfriend had done something to upset me. I can't even remember what but I knew I wanted to walk away from High School and never look back.
A few weeks prior to the end of school (after all of this went down) I walked into my guidance counselor's office with the names of the 3 colleges I had been accepted to and asked if any of them had ZERO students from my HS attending. Luckily, one of them did. And, that is how I decided to go to Cal State University of Monterey Bay.
To be continued...
This girl and I had some fun times together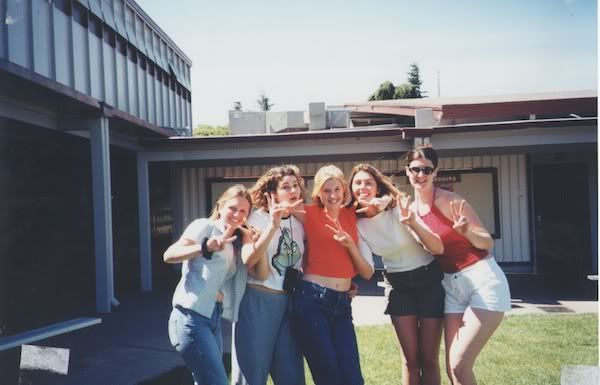 Senior lawn!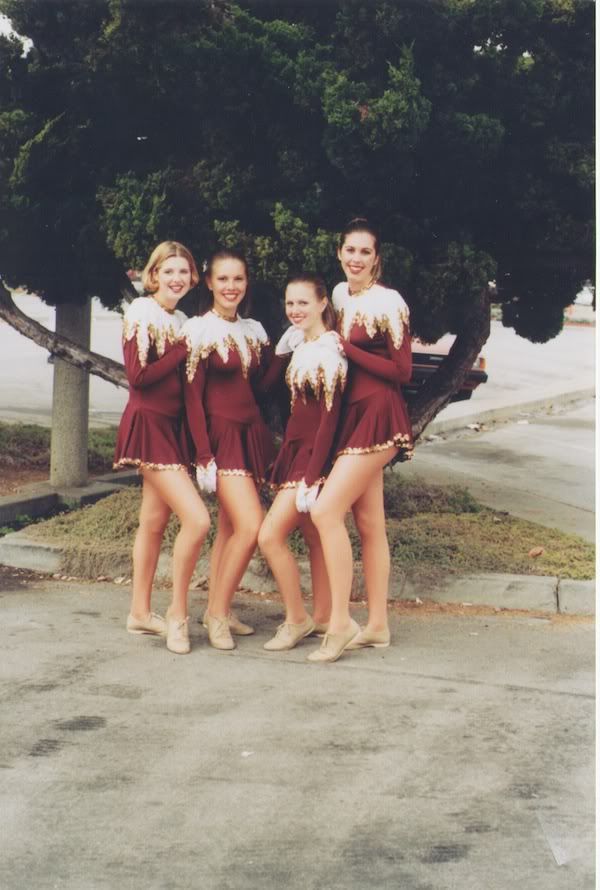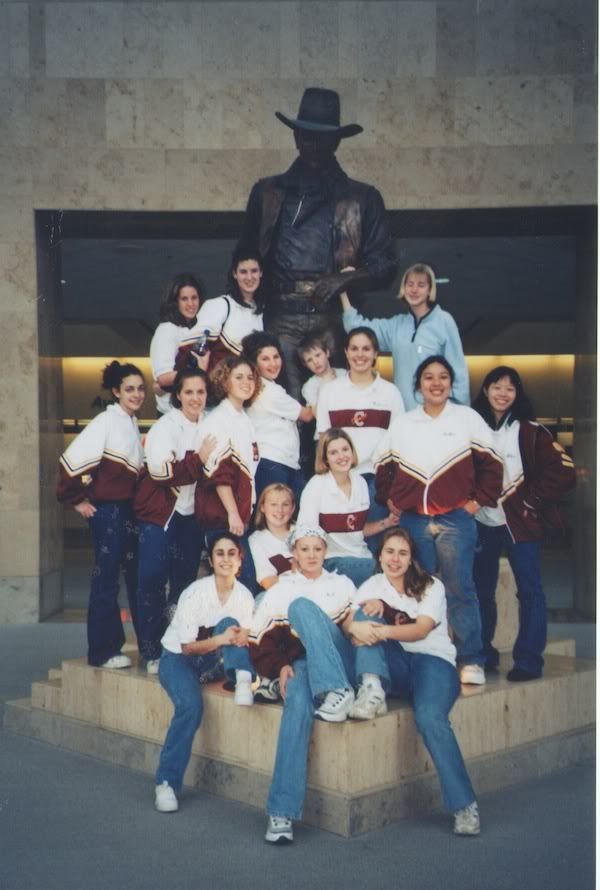 Winter Formal Senior year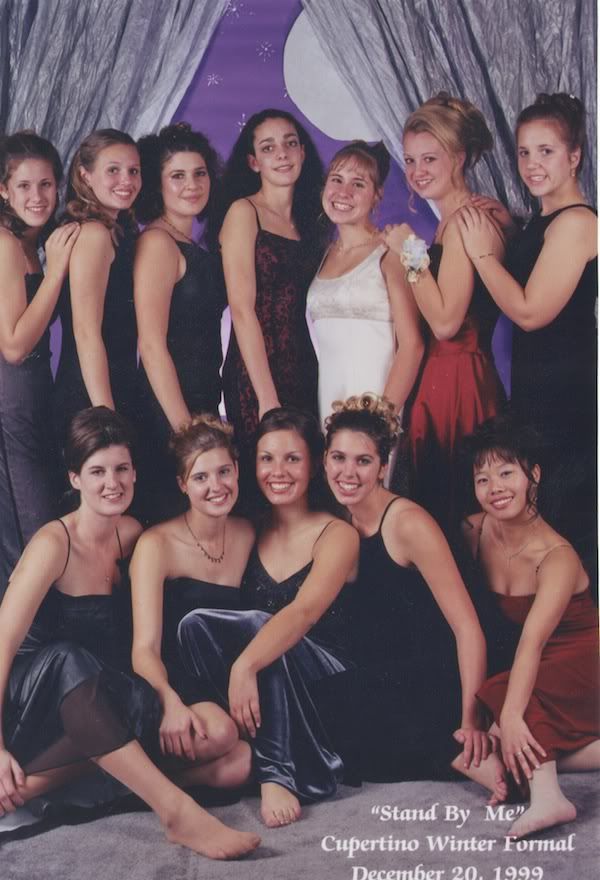 The Dance Team crew on formal night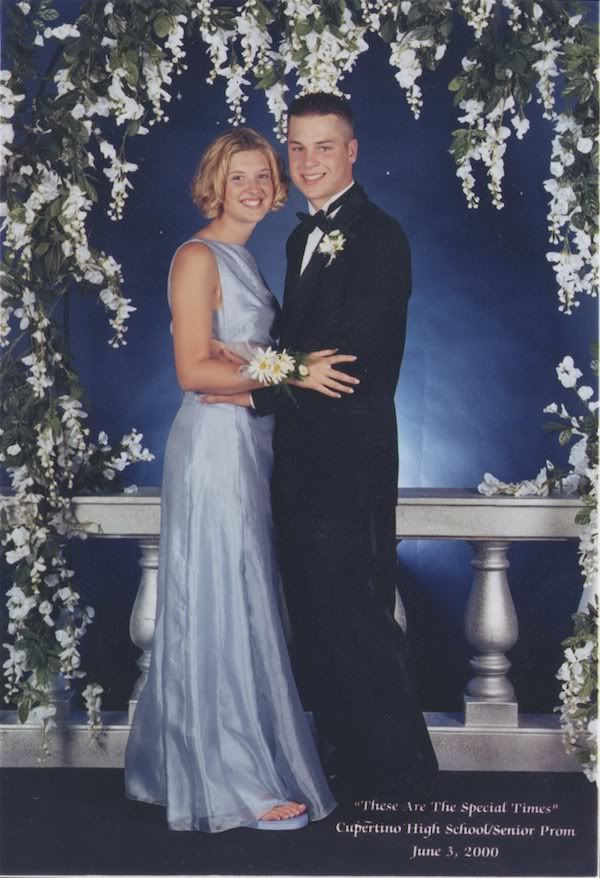 Prom (ugh, night from Hell!)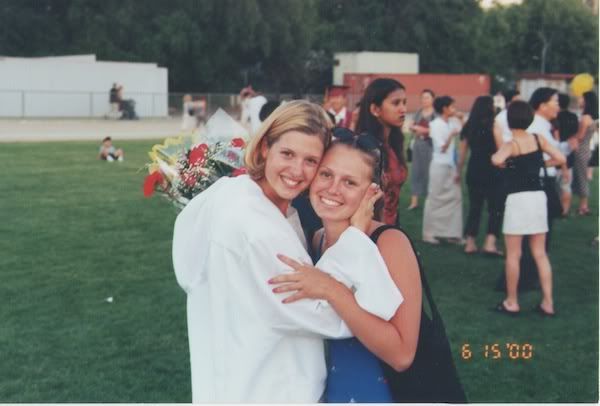 Graduation
I have one week before my 30th birthday so I need to hurry and get through the next couple of posts!! Be on the lookout for posting madness!