Well... this is all just going way too fast for me.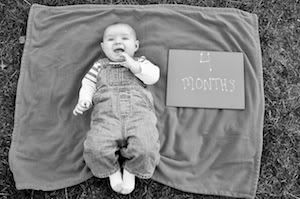 Ben at 4 months old. What can I even say about that?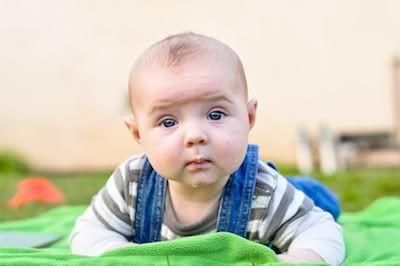 He is FINALLY laughing out loud. But he makes you really work for it.
He was 17 pounds and 10 ounces and 26 1/4 inches long, which just happens to be EXACTLY what his big brother was at 4 months. Silly boys wanting to be the same...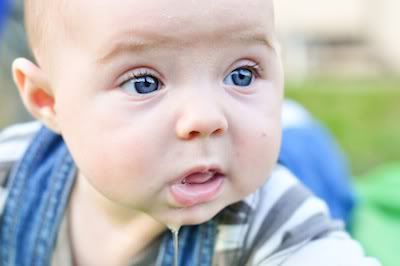 He's working on sitting up, but still falling over regularly. He's drooling like crazy. He's rolling from front to back and back to front.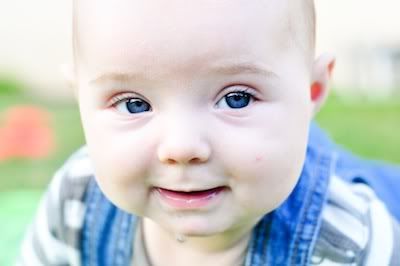 He is NOT sleeping through the night. I have become a human pacifier. He wants to cuddle and nurse all night long and I know I'm SUPPOSED to say how that's okay because this time will pass and I want to just enjoy every milk cow moment, but honestly? Mama just wants some mother effing sleep. That's all. Just SLEEP kid. I smell Ferber coming.
He smells it, too. He thinks it stinks. Me, too kid - but it's good for us
.
Oh, yah and we stinking LOVE him to pieces! We can tell he's got some spunk with his zero to 60 ways and we love that about him. We can't wait to see more and more of that personality come out. His smile still just KILLS me dead with its sincerity and we think he's just the sweetest little guy. Max tells him he's funny all the time, like they have a secret language going on that only they understand. Apparently, he's quite the hoot and Max is going to be very entertained by him.
Love you, Mr. B bear!! Thanks so much for being in our family.