Bennett turned 3.5 last month and I've been reflecting more and more on where each boy is at in their development and I so miss recording it. Poor Crosby has literally had nothing documented of his first year. In any case, I want to keep up at least every 6 months with where they're at. So, here's what I know about Bennett right now and some of my favorite pictures of him from the past 6 months.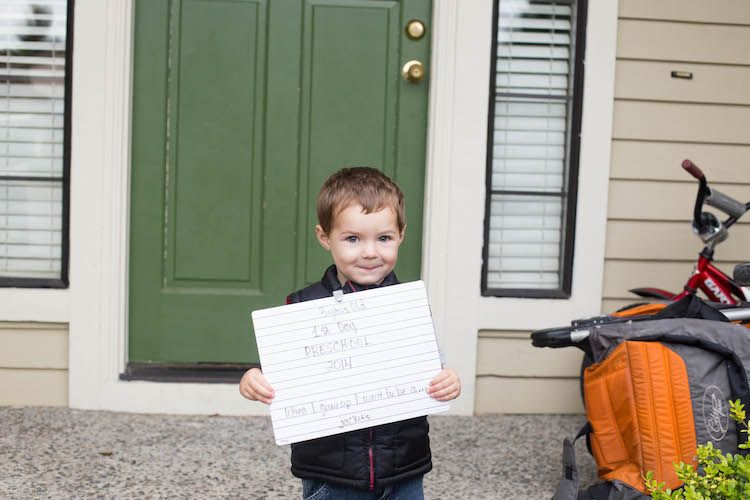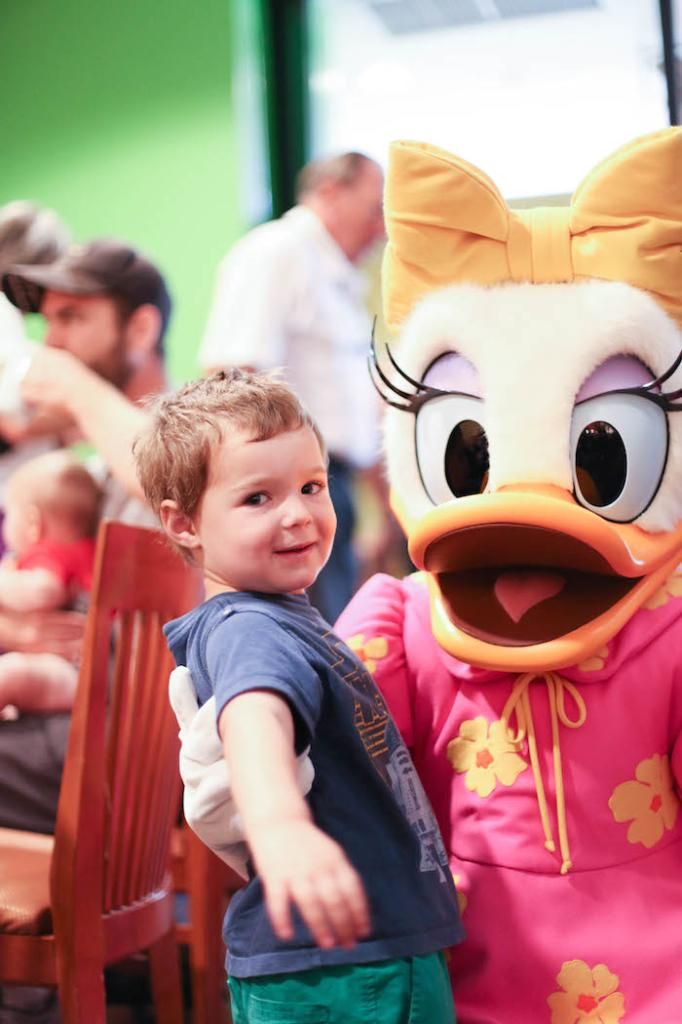 Bennett is SUCH a three year old. Happy one minute, melting down the next. He has a whine that sounds to me like nails on a chalkboard. I'm pretty bad at just giving him WHATEVER it takes to stop that sound immediately. Bad mom, I know. When he's happy though? He will light up your life.
He's sweet and snuggly and easy going. He loves to play with trains, legos, "shooters" (ugh), balls, tinker toys, the matching game, Sequence, Jenga, Go Fish, puzzles and books. He loves being read to and really enjoys getting new books from the library. His favorite thing is probably dressing up in costumes. He mostly prefers to be Elsa or anything that involves a dress. I think he's the most beautiful princess.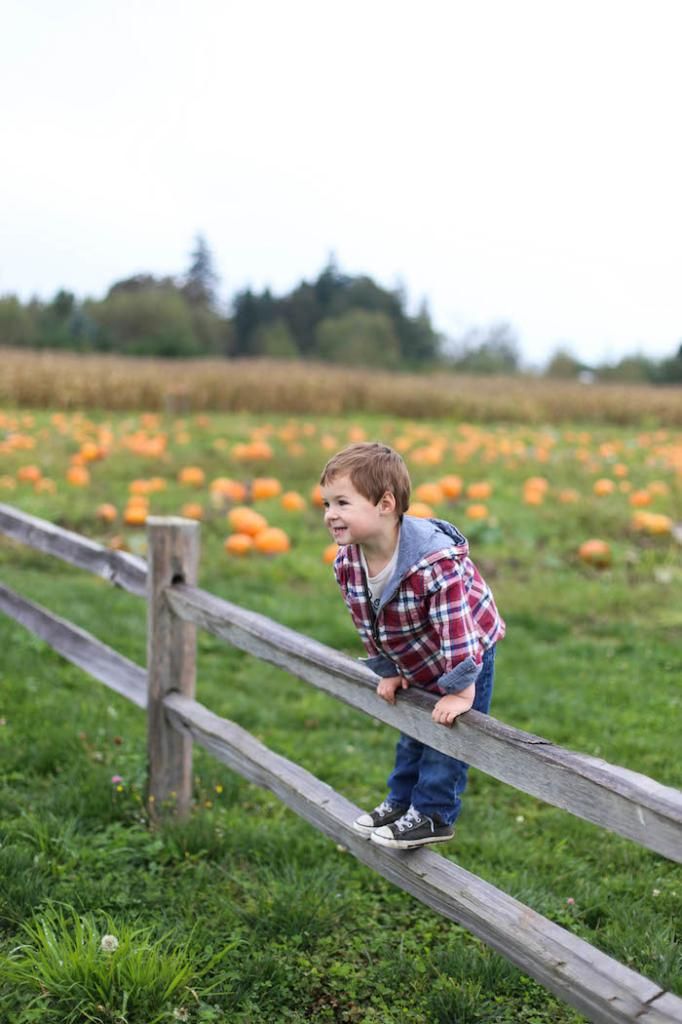 I love that he's fully his own person. He's not easily influenced by what others want to do or play with. He just wants what he wants and he's not afraid to express that. He LOVES being around others and playing with friends, but if they're not doing what he wants, that's fine, too - he'll do it anyway! He's learning to share with his baby brother, a task proving much harder than it seems :)
He's tracing larger letters (ones that take up a whole page) and can recognize some numbers but not many letters yet. He loves to do "school work" as long as I don't help him or ask him any questions. So.... basically I'm choosing not to worry terribly about what he knows or doesn't know. I figure he'll get there eventually. He can count to 13 without help and his 1:1 correspondence with counting is up to about 5. He's dressing himself with ease now with the exception of his socks and shoes.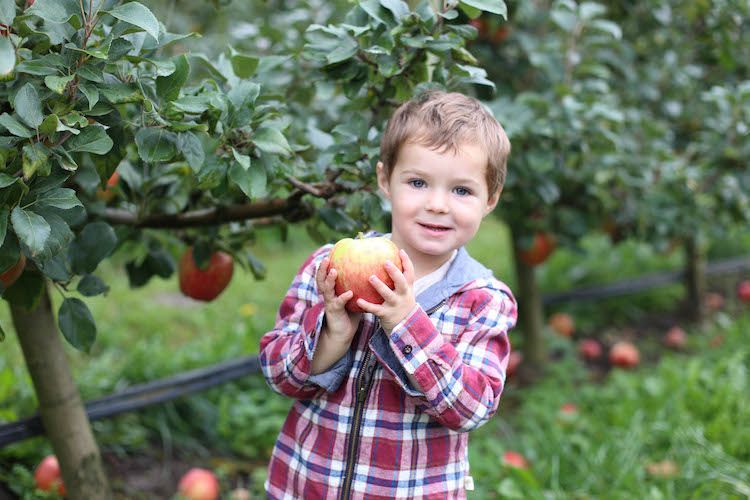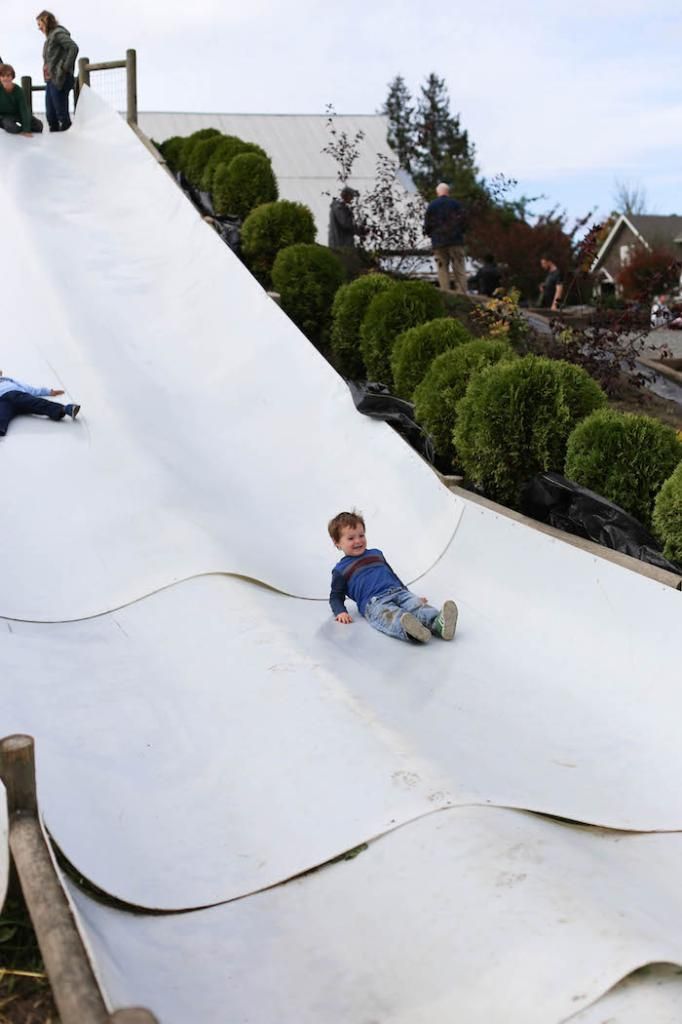 It would be a marvelous thing to report full potty trained status but alas, I cannot. He can pee in the potty without assistance, but he's still pooping in his pants. Again, I'm trying to remember that he will get there. Bennett cannot be pushed into something he doesn't want to do. He's stubborn and self-assured. Bribing isn't working.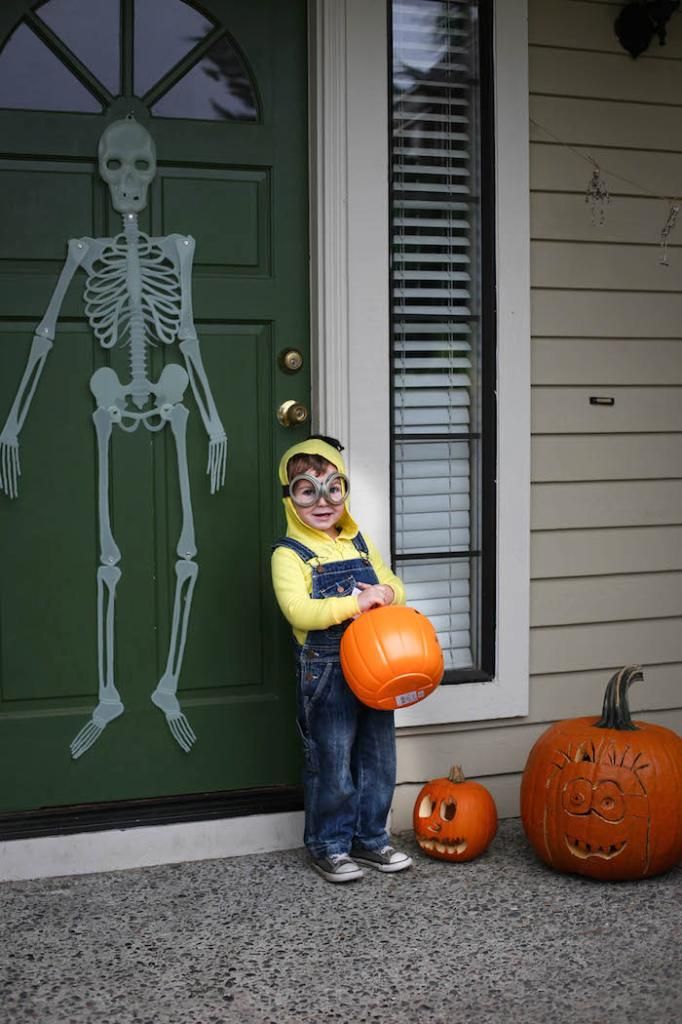 Bennett likes to change his clothes about 6 times a day and prefers pajamas to all other clothing choices. But, he also likes to accessorize sometimes. Hats, scarves, gloves. He enjoys them all.
He has enjoyed gymnastics and is looking forward to soccer in the spring. He LOVES preschool and always looks forward to going.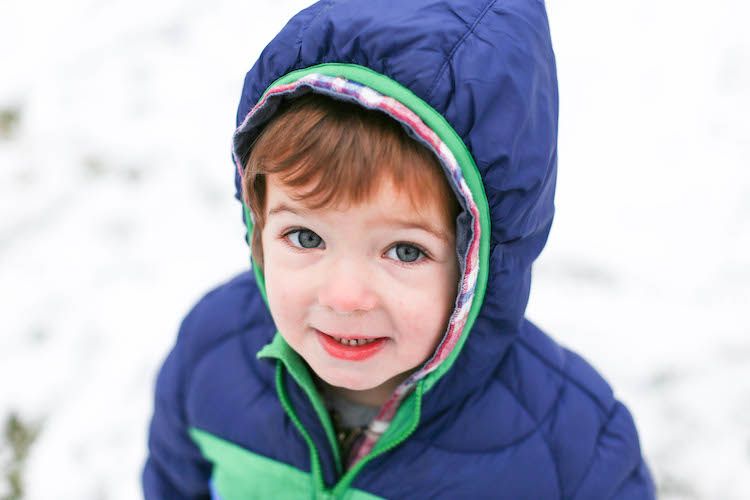 He's adventurous. He'll try pretty much anything once. He may never do it again after that, but he's always game to try. He does try to keep up with Max in regards to sports and physical activity and in most cases, he can easily keep up. He's a very physical child and needs to exert his energy daily. Sometimes this means at bedtime he's going crazy and jumping and climbing because he didn't get it out earlier. Whoops!
The child will eat ANYTHING. He's not picky, although lately he's shown much more preference for certain foods (toast, cereal with milk, fruits, chicken and rice, etc..) as opposed to just eating whatever I give him. He's a pretty adventurous eater and will try anything once. He likes spicy food and hummus and things that Max won't touch.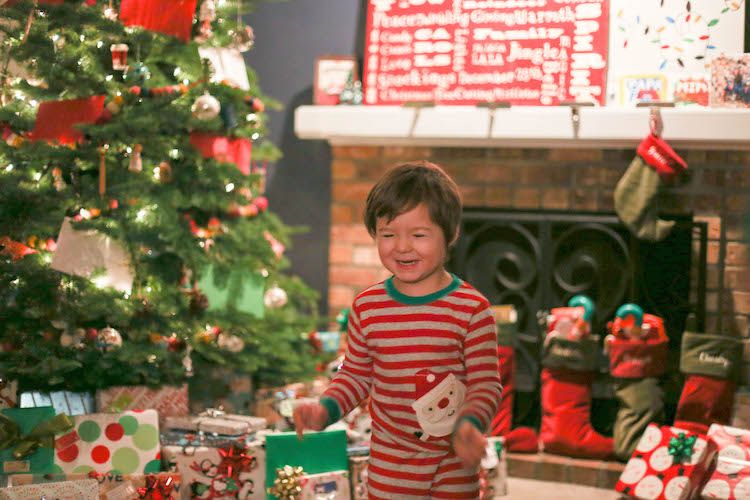 A terrible photo for its quality, BUT this is my boy on Christmas morning. Pure joy.
I really GET Ben. He's completely my child. Looks like me, acts like me. It's easy for me to empathize with ALL of those big emotions because I have them, too. This makes the relationship between Ben and me pretty easy. I don't raise my voice or lose my temper as often with him. He brings out the patient side of me (well, most of the time - I'm so far from perfect it's not even funny).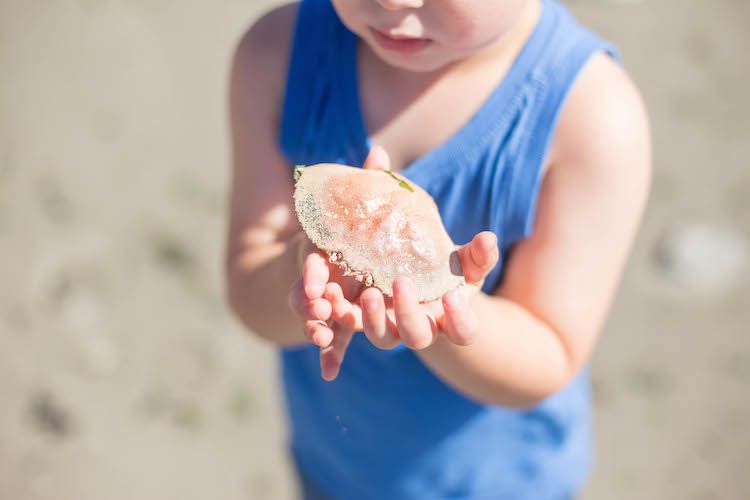 He'll say his best friend is Kira and he's been hugging and kissing Crosby A LOT lately. He tells me he loves me and says he needs a hug often. He's starting to not want kisses anymore (thanks a lot, Max!) but I sneak them in and he doesn't seem to mind. He loves to help, sit on my lap and be by my side.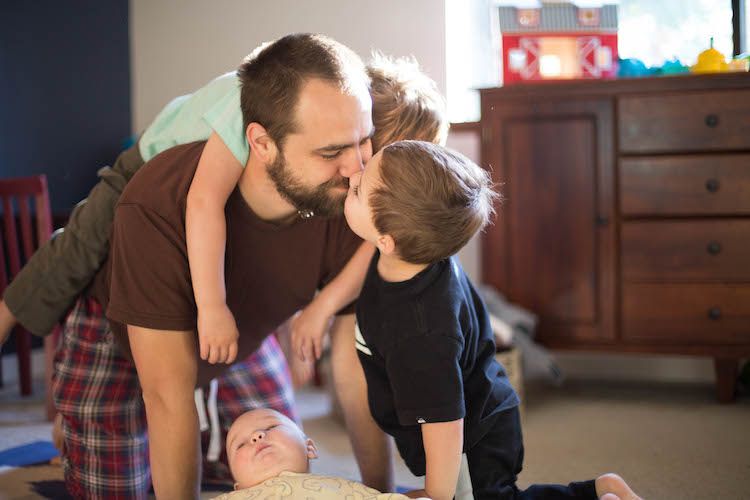 I'll leave you with my favorite photo from the past 6 months. A Daddy and his boys. Bennett kissing him. Bennett, giving love. That's how I always think of him, so this is the perfect last image.
Ben is treasured in our family and I often think he'll be the link for the bond between his brothers. Because, I believe, anyone can get along with Ben. He's just so likable. And loving. He provides something in our family that is irreplaceable and I hope he feels loved and valued every single day.