I mean, really. Could we just SLOW things down a little bit here? My oldest guy turned FIVE last week. FIVE. FIVE. Are the caps making you realize how dramatic that is? He's old. He's officially crossed over into the land of kid. One more year until Kindergarten and then he's basically graduating high school and leaving me forever. I can't handle it, guys. It's too much, too fast.
Okay, meltdown over (for now). We decided to do 5 up right and take the fam to Disneyland. Disneyland is up there with boots and sweaters in the fall and Christmas trees with twinkly lights and banana splits with REAL hot fudge. It's one of the best places in the world to me. I was giddy, like a, well, 5 year old over going there and witnessing my kids experience it was like heaven. I told Ritchie I was going to feel depressed after our trip because I was SO looking forward to it and it would be all over, but I'm not. I'm still remembering it and loving our memories.
Anyway! That's another blog post. Here's how we celebrated Max sprinkled in with some fun Max facts: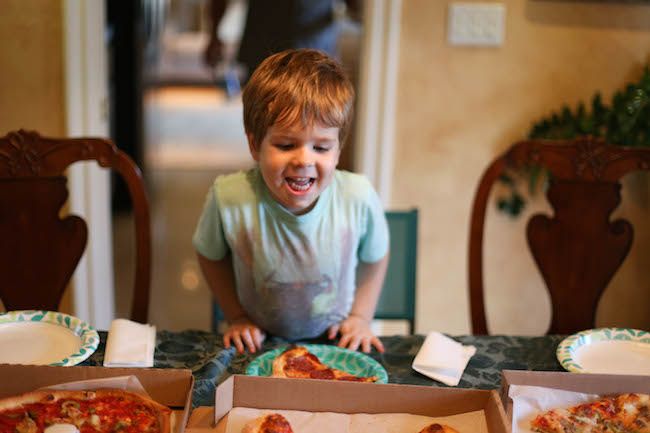 We started off with pizza (pepperoni with no cheese please for this 5 year old) and a "spicable me minion cake" with his Papa and Mimi and Uncle Andrew and Rusty. This was the best we could do on that one....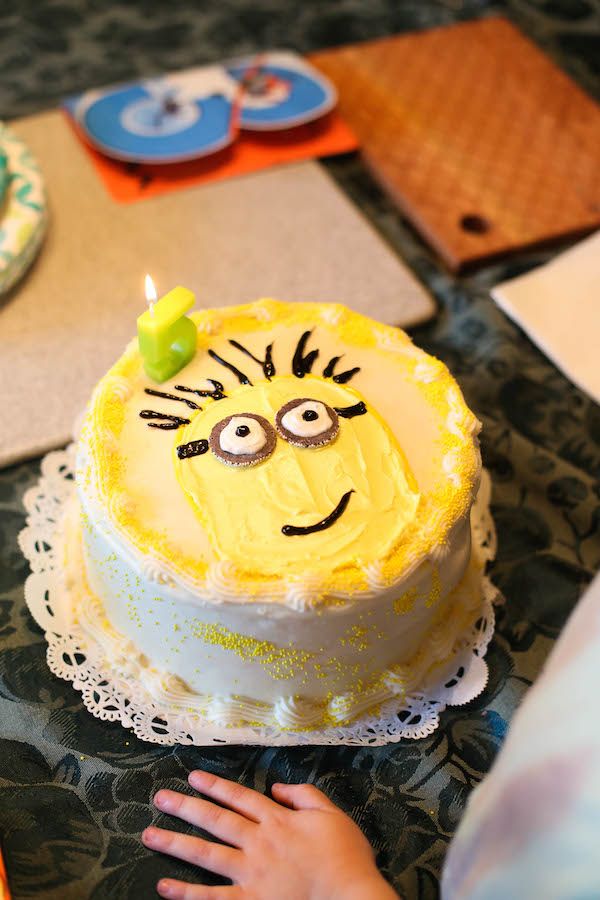 Max has been obsessed with Despicable Me (both 1 and 2) and everything that goes along with it. He speaks minion, he owns a fart blaster (thanks, Gillettes!) and he's constantly quoting the movies.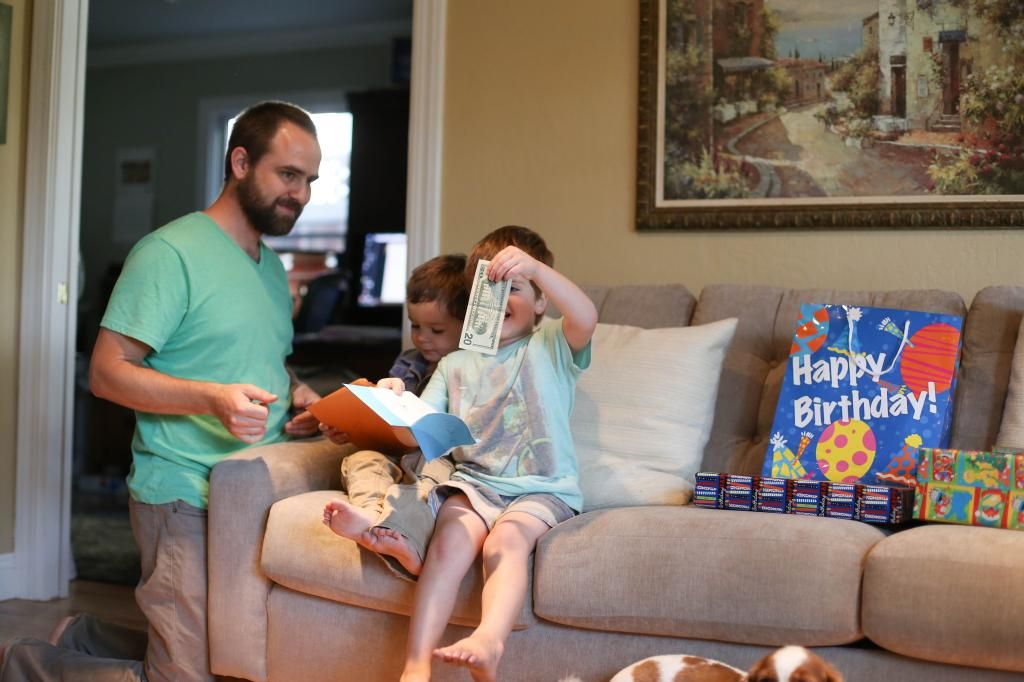 His favorite gifts were anything "shooter" related, legos and money (with which he bought more "shooters" and more legos). Smart child (on the money part... the shooter thing is also a whole other blog post)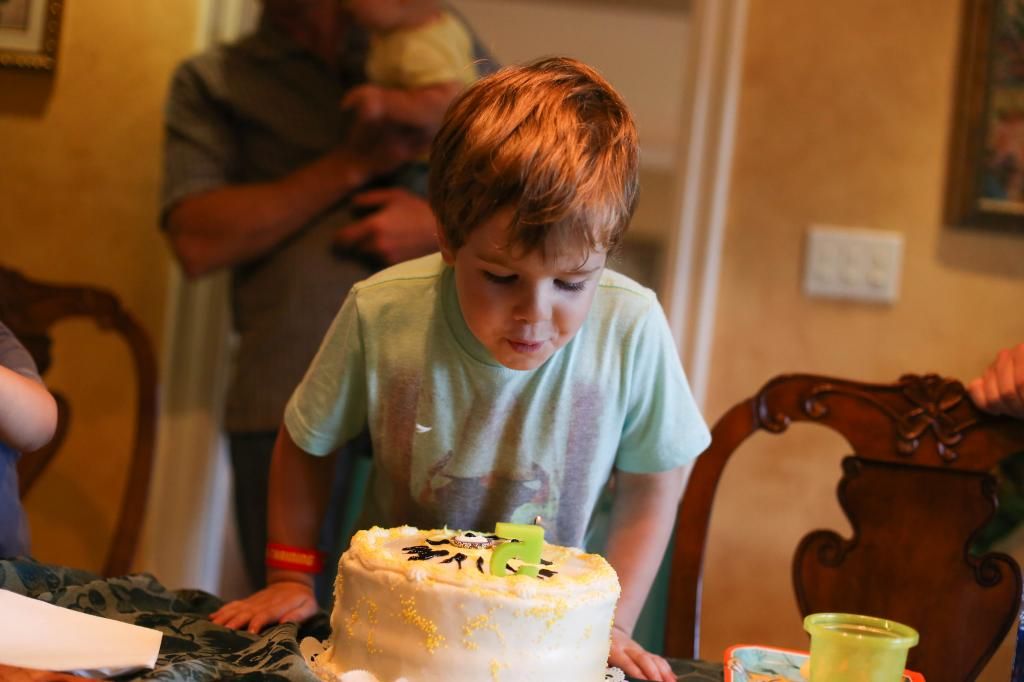 On his actual birthday we were in Disneyland! We did a character breakfast and enjoyed his favorite rides which were the Haunted Mansion, Toy Story Mania and Buzz's Astro Blasters.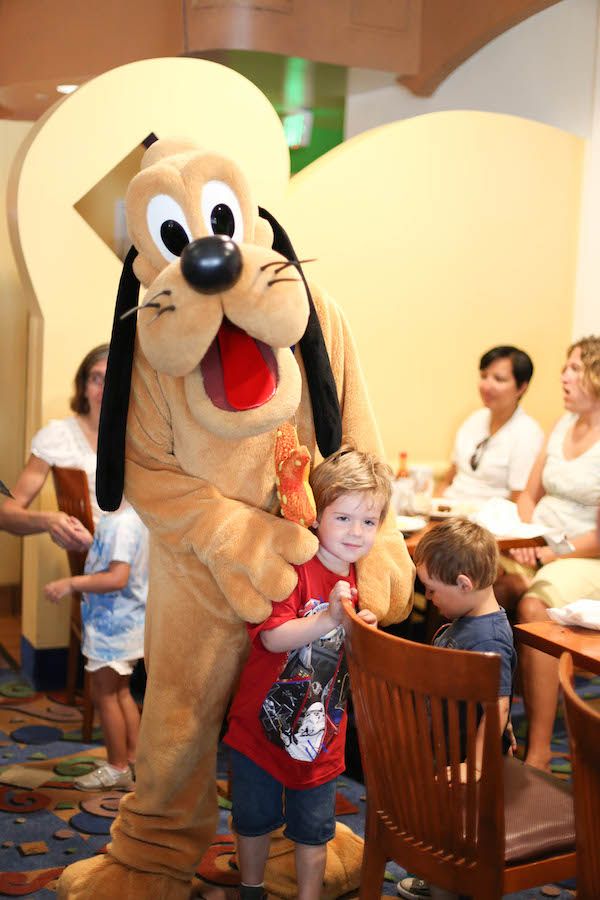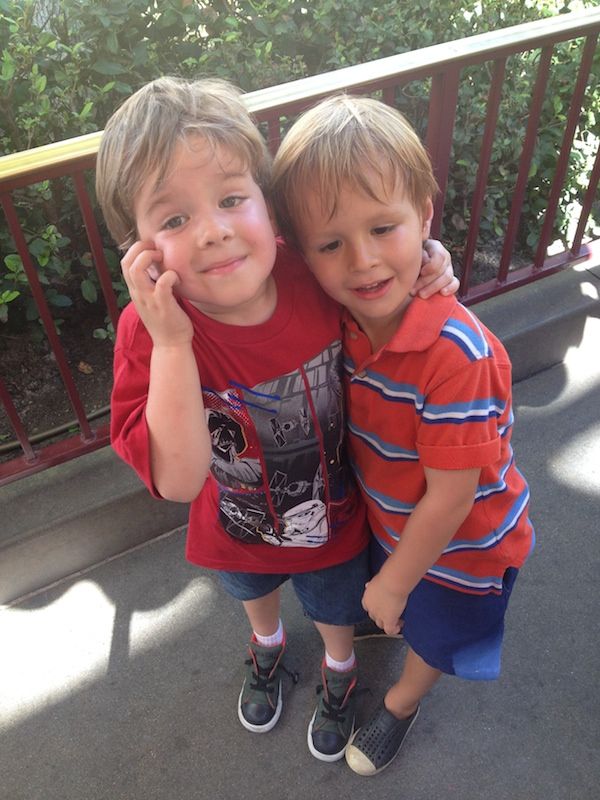 My fantastic friend Kirstie joined us with her two sons. Roman is almost 5 and he and Max get along swimmingly.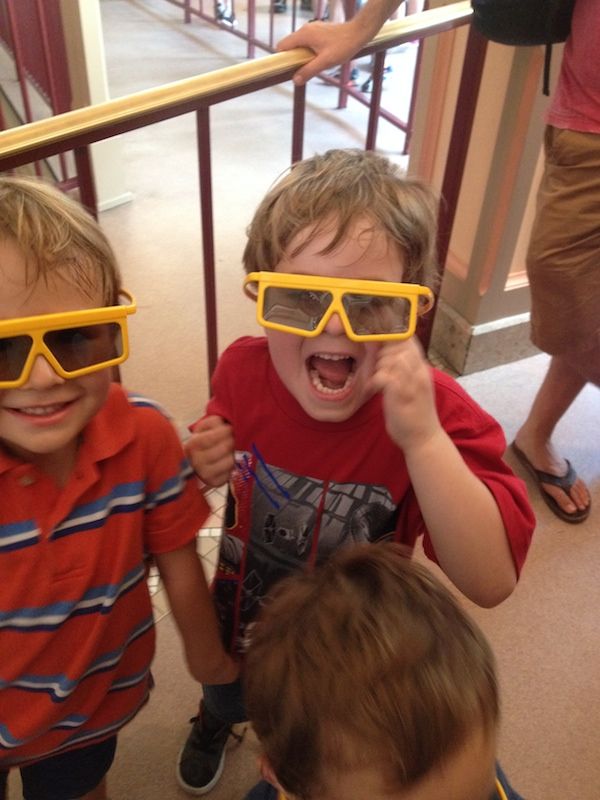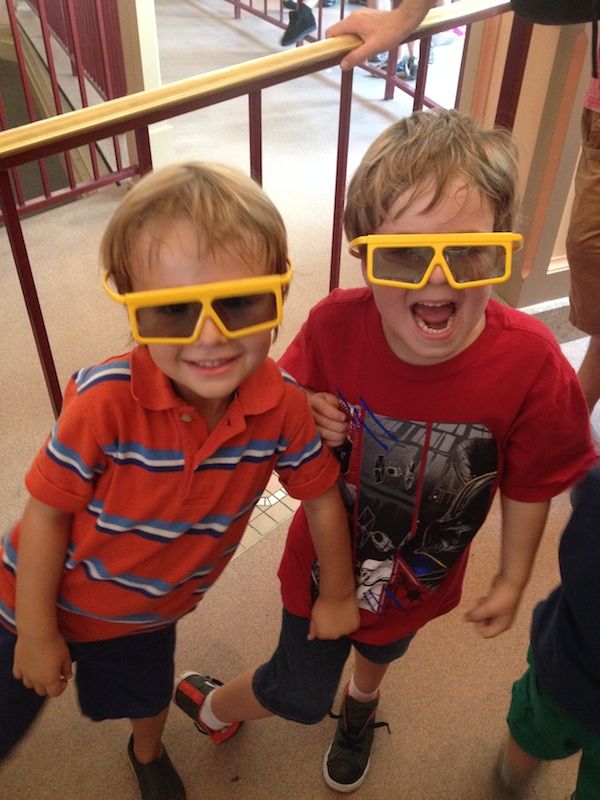 Max is a creature of habit. He loves oatmeal with honey and cinnamon and peanut butter toast with honey and cinnamon as well. He despises clothing that is at all fancy or buttons or is a puffy vest. T-shirts and comfy pants for this kid. He's a negotiator and a talker (He gets that from Ritchie... obvs) and sometimes I understand why my parents used to ask me if my jaw hurt when I was his age. Kid can TALK. He's competitive and loyal and prefers a few close friends over lots of people. He's still not independent whatsoever. He'd rather have you play right along side of him then alone, any day.
Max is SO CLOSE to reading. He can count to 100 (+) and do a plethora of coloring/cutting/gluing activities. He likes it when we do our "school" together. I think he just likes being together, but I'm hoping that this will all translate well in Kindergarten next year.
He loves playing games on the iPhone and watching movies, but also builds legos like it's going out of style and plays many different variations of "running games". Imagine him running in a circle and you get the game.
He hates most food but likes most people. He can make me melt and make me crazy all within minutes. I couldn't love him more. I think he's smart and funny and sweet and hopeful. I love his wit and determination and smile. When he hugs you or says he loves you, it's because he means it whole heartedly because he's not overly affectionate usually. It's something special when he loves on you. I soak it up.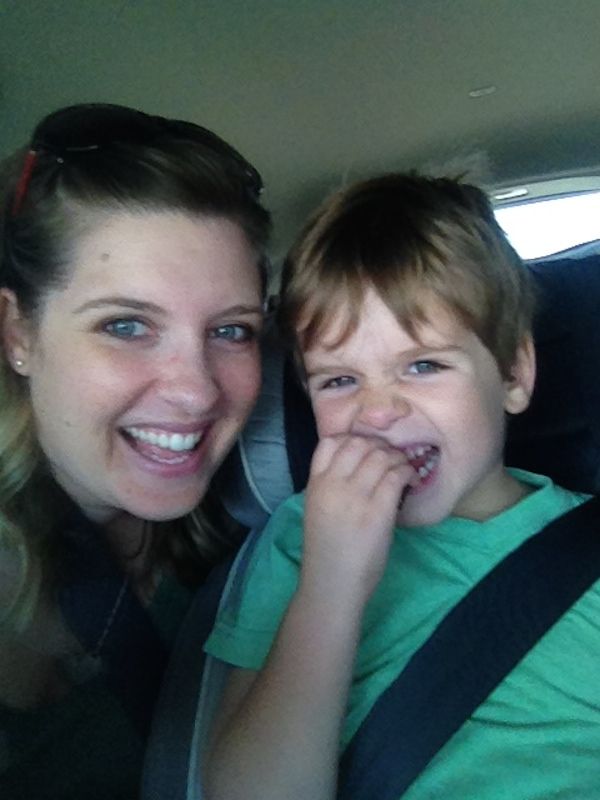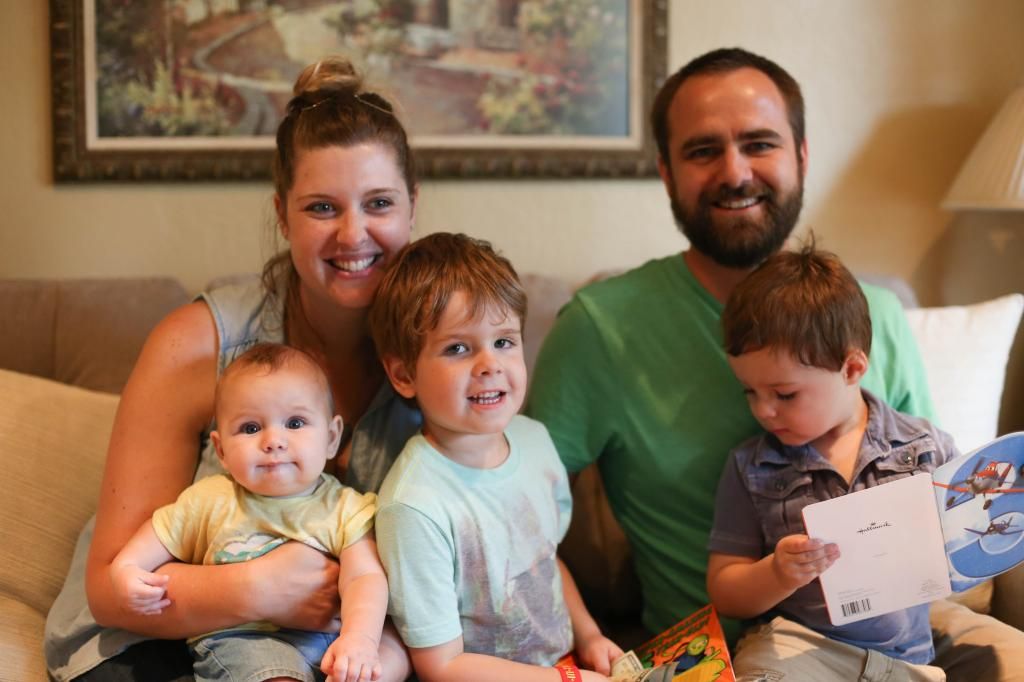 Max, buddy, I know you're all in a hurry to grow up, but maybe you could slow it down just a little bit? We'd all appreciate that....