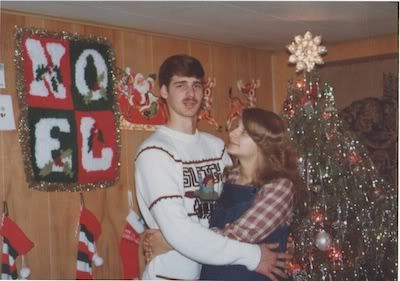 My mom and dad about a month before I was born
I was born in 1982 to Cindy and Rocky (yes, that's his birth given name). Their story (as I know it to be, anyway) is interesting. Both were in the Air Force and just friends when my mom was stationed to jump out of airplanes in Korea. Apparently, my dad offered to marry her as that was one of the ways out of her going. They married quickly with an agreement to divorce after some length of time. Well, I guess the plan went awry because, here I am. Nobody has ever confirmed this with me, but I assume that they decided to give the marriage a real go since now they had a child together.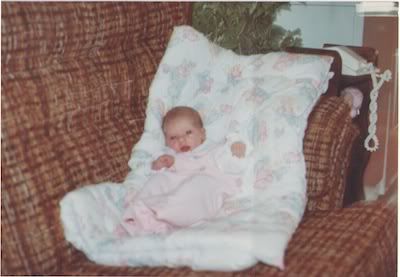 Within the first month of my life
I was born on January 11, which is also my mom's birthday. Best birthday gift EVER! We were living in Plattsburgh, New York at the time. We lived there for a few years before my parents found work in California and moved us across the country. I believe I was three when we moved here. We started our stay in San Jose in a little rental home.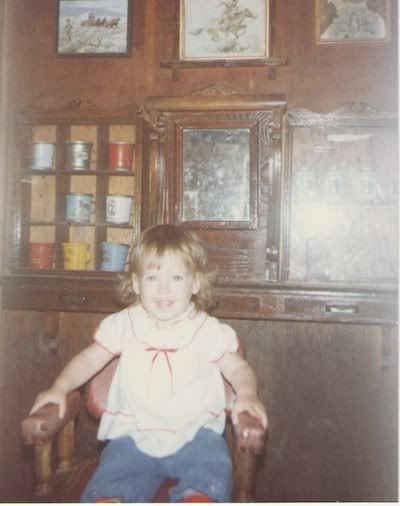 Approximately a year old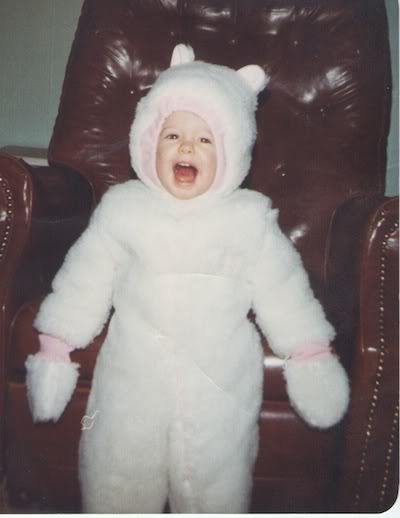 Ready for the snow, I assume?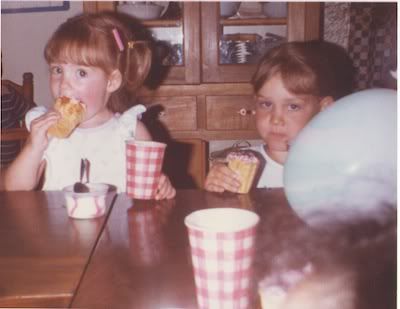 Enjoying a cone around the age of 2 1/2 maybe? These are all guesses
My earliest memories begin around the age of 4, when we were living in Sunnyvale in a rented duplex. That duplex, I remember, was awesome. It had a finished attic that was huge and my parents had a ping pong table. We would hang out and play ping-pong, just the three of us, for hours. We used to barbecue in the backyard and wash our car in the front yard. I remember my love of the holidays began in this house as I was old enough to savor the season. My parents both have always made the holidays special with decorating, baking and traditions. My recollection of Christmas was a feeling of magic and I actually thought I saw Santa in that house one year.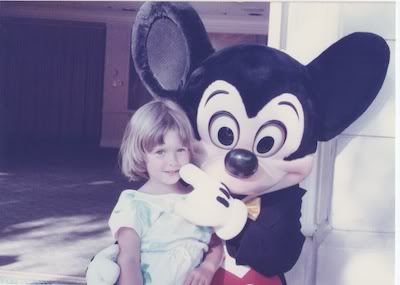 I was a Disney lover from a very early age. I carry that attribute still today.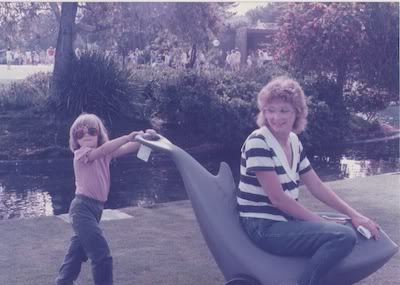 This is classic "my mom and me" - always goofing around together. Now, we just goof around at the mall. She is one of my best friends.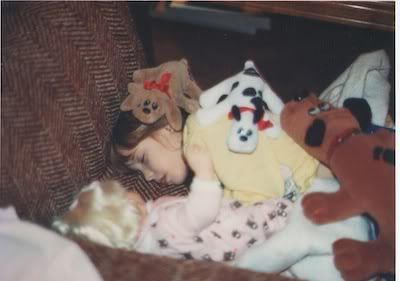 Is there a child that doesn't have a picture just like this?
Mom and I celebrating my 4th birthday (her 28th??)
From an early age I wanted to wear makeup and have my hair curly - I've always been ALL GIRL.
.
I tried my hand at modeling. Here's a portfolio shot. Apparently I could have been HUGE, but my parent's didn't want to move to LA. Whatever, mom and dad.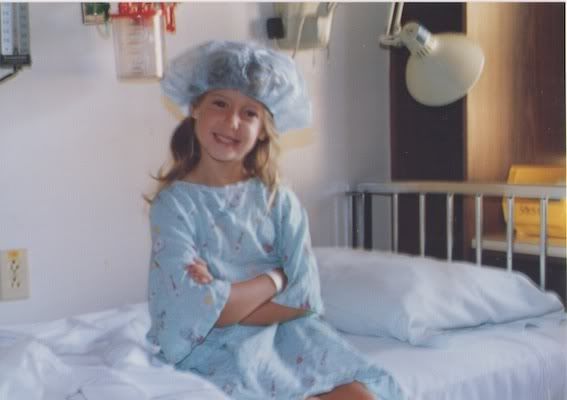 I had several surgeries as a young child for my ears.
I've always been very much a daddy's girl. Still am.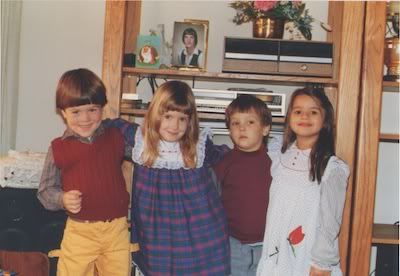 I had a close group of friends as a child. Here they are celebrating my 5th birthday with me.
Eventually, my parents bought a townhouse in Santa Clara. I was around 6. It was also around this time that they told me I was going to get a brother or sister. I had been asking for a sibling for a long time. Probably since I could talk and understand what a sibling was. Well, this is only partially true. I had been asking for a SISTER for a long time. When I found out I was having a brother, I totally packed a suitcase and threatened to run away. I didn't though because my parents convinced me that I would love having a brother because I wouldn't have to share my barbies. They lied, by the way. My brother totally played with my barbies.
Bringing Andrew home from the hospital
.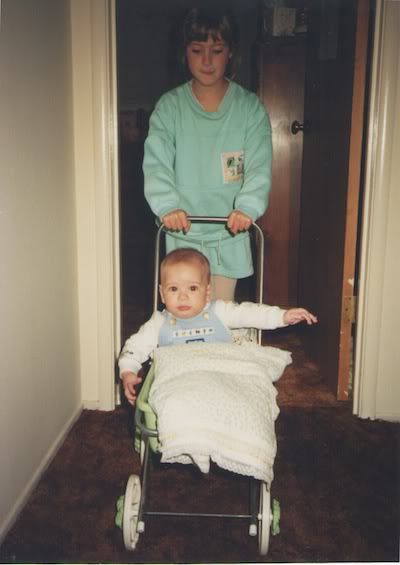 I was meant to be a mother, yes?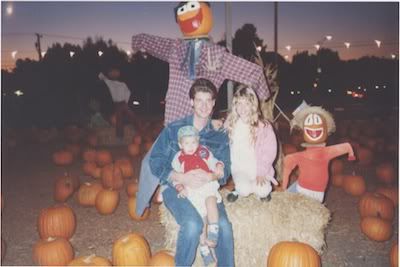 Holidays were always so much fun.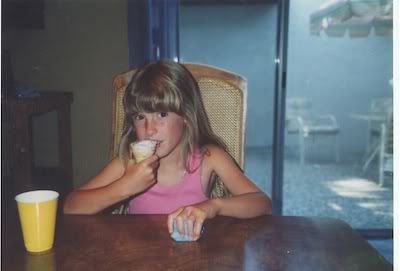 I think I was a punk rocker for 3 years straight. Please, note the scrunchie around the leg. SO punk rock, am I right?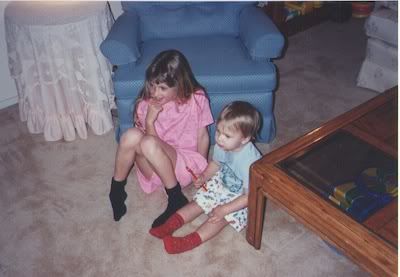 Hey! We still like to do that!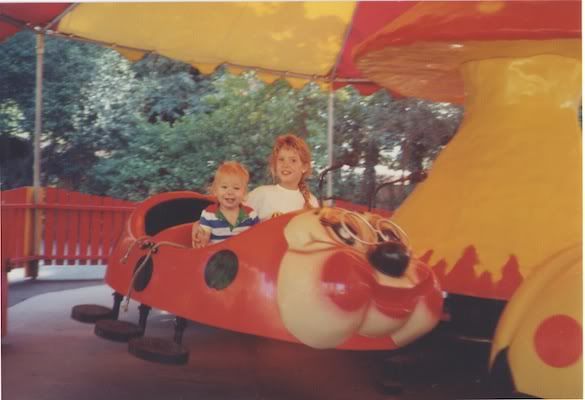 So, we're living in Santa Clara and now I have this brother (Andrew). I'm 6. How did I get halfway through a decade already? In any case, these years were good from what I remember. I struggled with the whole sibling transition, but ultimately loved having someone to dress up and boss around. We were fortunate in what we had. We had a home and I never wanted for anything. As the years went on it became obvious that although my existence was a happy one, my parents' marriage was not.
The first day of first grade.
3rd grade, I think? I was TOTALLY into New Kid's on the Block. First love was Joey Macintire. He was the youngest so I figured I had a real shot.
I'll never forget the day I was sat down and told that they would be separating. I knew what that meant. I also knew it was coming. I had been hearing the late night arguments. They had sent me away for two weeks that summer to stay with my cousins in Tennessee while they sorted out the hairy details. But, the knowledge didn't make the hurt any less. I ran around the room screaming and crying. I felt helpless and lonely. I didn't want divorced parents. I was nine when they separated. The split actually began with them alternating living in the house and my brother and I stayed in the same place. After some time my mom moved permanently back in and my dad rented a house on the other side of town. My mom began seeing someone with a daughter close to my age. We would plot ways to get our parents back together. As much as we loved the idea of maybe becoming sisters, we desperately wanted our parents back with their original mates. I remember that year being very difficult. Many tears. It was also the first time I saw my father cry. He was packing to move out and stood there by the fridge, put his box down, and just cried. I remember my mother hugged him. That's one of my more painful memories.
I'm going to stop there as the divorce actually ended my first decade and moved us into the second with a fresh start as a split family (it all ends up okay, just so you know).
The second decade is actually the most painful and challenging for me (something for you all to look forward to?) Stay tuned...