Happy Monday! This is my last decade post! I become much less detailed as the 3rd decade closes because I was blogging for a large portion of it. But, you might learn some new things about me :)
When we last left off Ritchie and I had just gotten engaged. We immediately began planning our wedding for a year and a half away. Haha! We had a long engagement because we wanted to time the wedding around my brother's high school graduation so that family would be able to fly out for both events.
The day after we got engaged - I'm showcasing the ring everywhere I go!
6 months later I graduated from college. We had graduation parties and wonderful celebrations. This was an amazing time in life for me. Great friends, I had a teaching job lined up for the Fall at a private school, I was engaged and planning my dream wedding - life was so, so good.
At my graduation
With Shannon and Rachel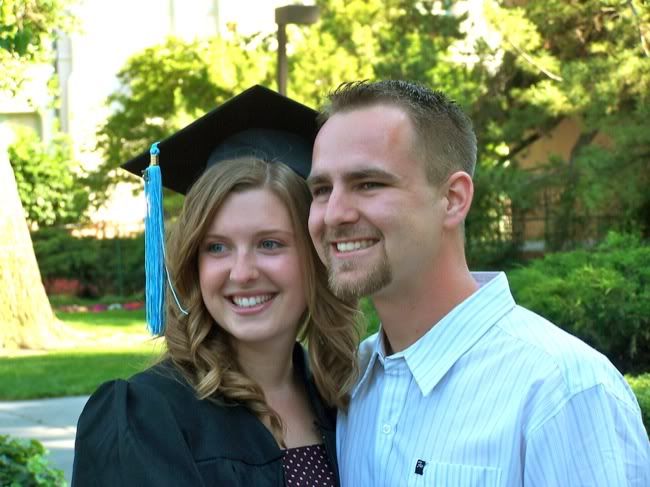 Ritchie and I moved out of my mom's house that summer after I graduated and rented an apartment in Los Gatos. That was awesome. I loved living in Los Gatos. We would walk downtown at night and get dinner or just soak in the ambiance of downtown. While the location was fantastic, the apartment was not. It was upstairs with no heat and we basically died a slow death that summer.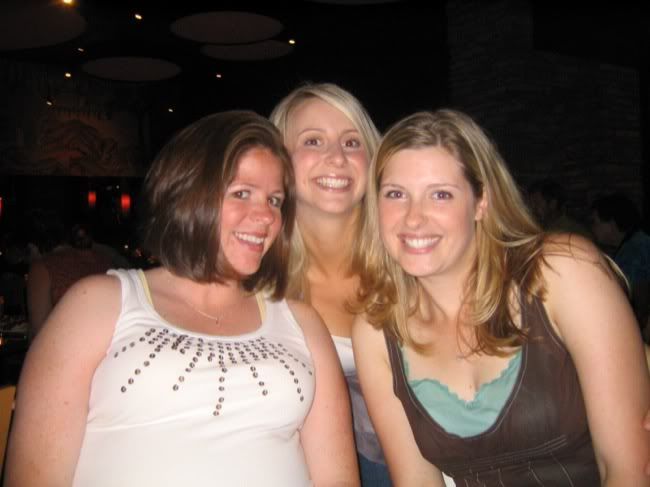 With Shannon and Rachel for Shannon's bachelorette party
My girls helping me find my dress
Life went on though and we continued to plan our big day. We decided to do a fancy dance and my dad and his wife Mary choreographed it for us. We began having weekly dance lessons with them in their family room. Those lessons began a tradition that still stands almost 6 years later of getting together weekly. We don't dance anymore, but we do dinners or other various activities. I love that and am so thankful that stemmed from those dance lessons.
Dancing in the unfinished living room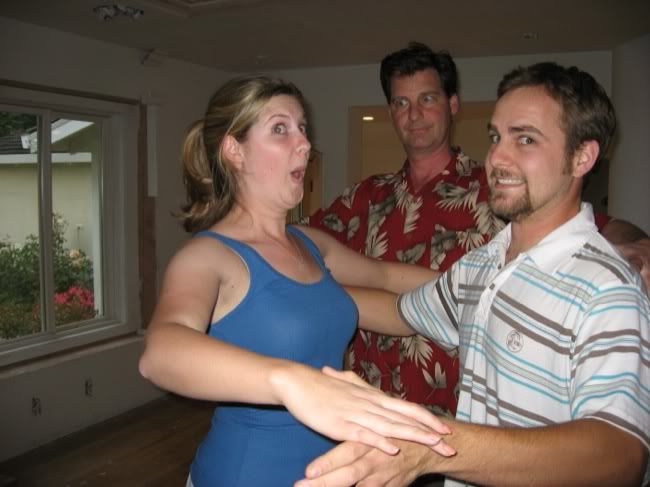 My dad "coaching" us. He was strict.
The dip :)
I was coaching a high school dance team at the time and really enjoying that as well. It was a great group of girls and they performed mostly at football and basketball games. I was super busy with work and the dance team and wedding planning. That whole year flew by. Before I knew it we were rapidly approaching the wedding date.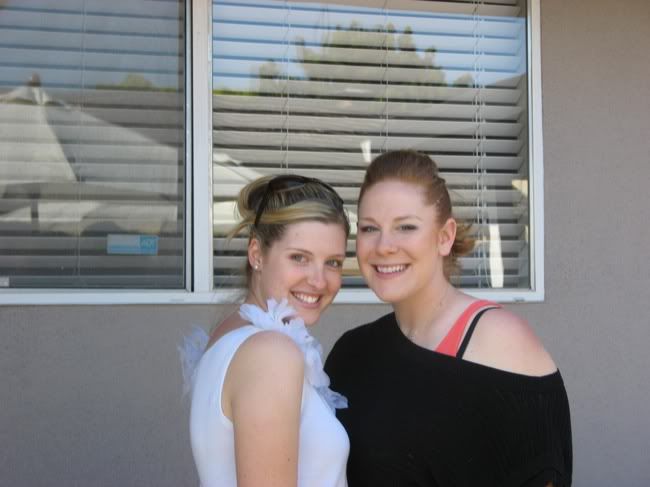 With Rebecca at my shower
Bachelorette party fun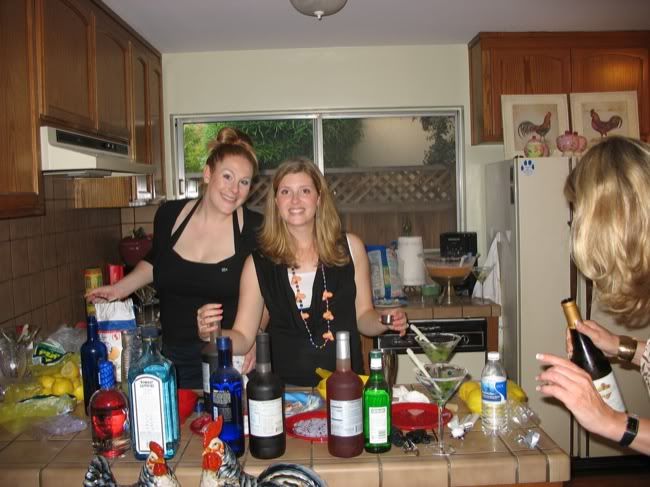 More fun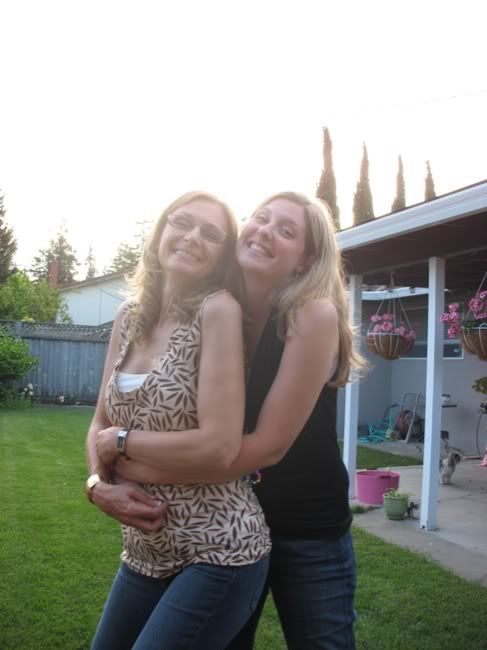 And more fun
As we neared summer, Ritchie and I started dreading spending the hot days and nights in our apartment. At the same time we happened to come across a couple who was moving out of a great Willow Glen apartment. We just love to be near little downtowns. So, about 2 weeks before our wedding we moved into a new apartment.
I had also grown really unhappy in my job. The school I was at wasn't allowing the personal growth I was hoping for in a teaching position. There was zero room for creativity and self expression for the students and that also frustrated me. Luckily a close coworker of mine had found a job at a new school and she introduced me to the director there and I was in. I would be teaching 2nd grade at a new school in the Fall.
Before we knew it, it was June and time for our BIG day! It was hot and there were many little bumps along the day, but none of that mattered one bit. I was insanely happy. I smiled more that day than I ever have before. I could gush for ever about our wedding, but for now I'll let the pictures do the talking.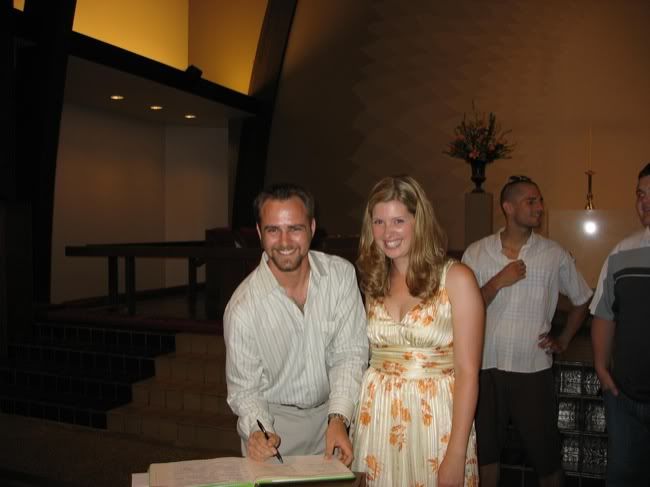 Signing our license at the rehearsal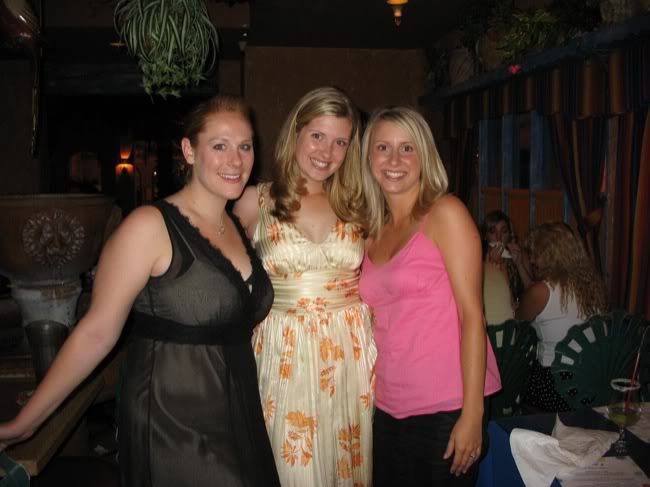 With my maid of honor and bridesmaid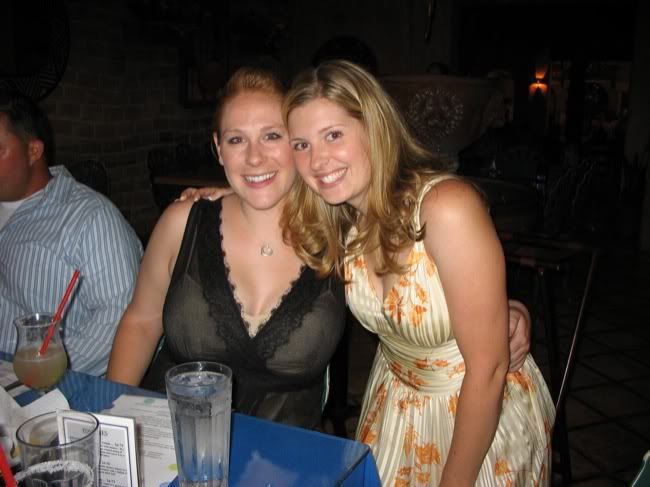 Rebecca was my maid of honor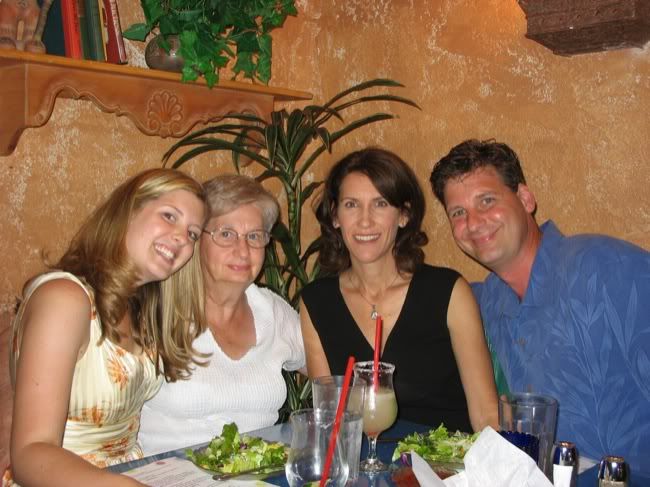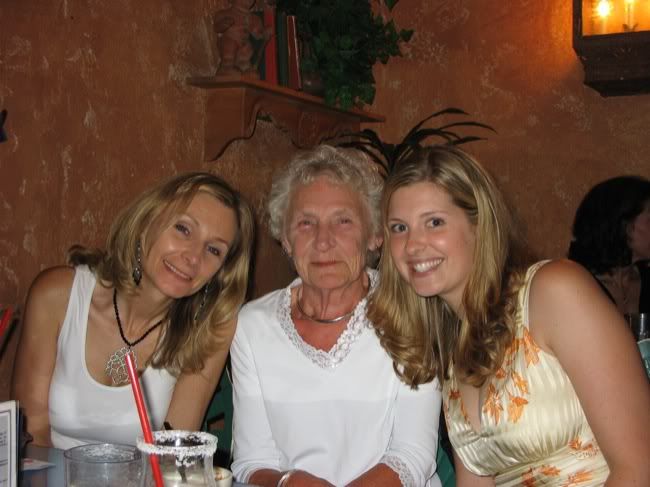 All of my grandparents made it to my wedding. I was so happy to have them there.
Heading to the church!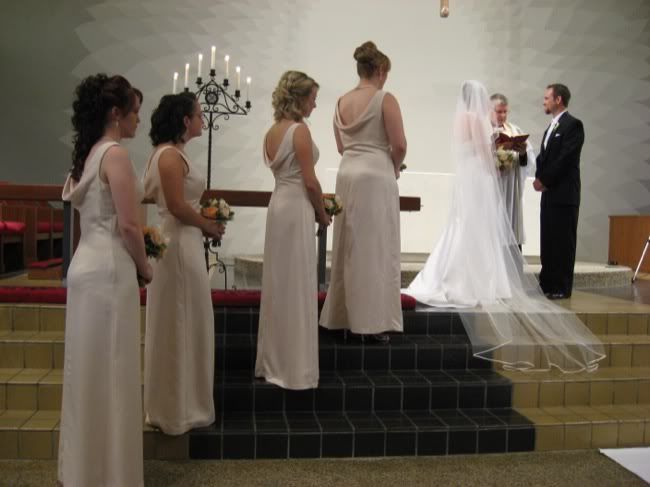 During the ceremony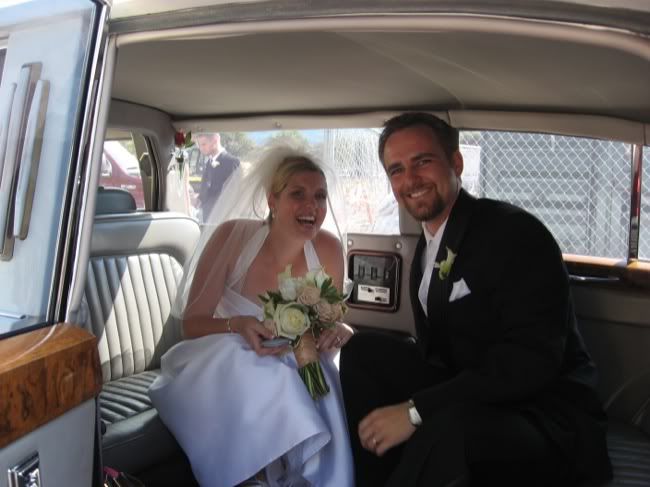 Heading to the reception!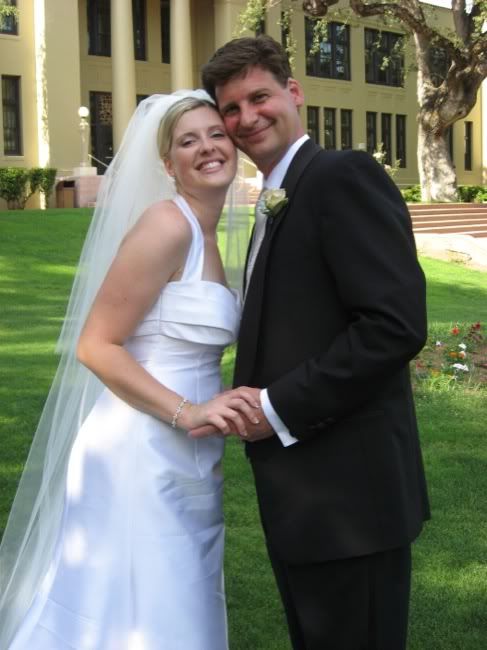 Stopping for some pictures with daddy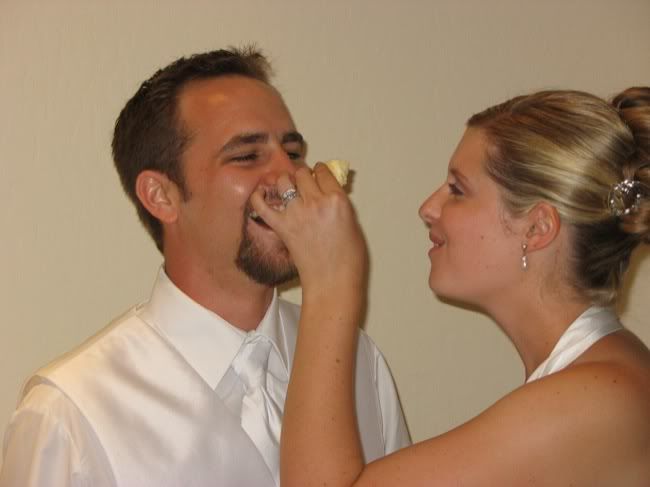 Cake - yummy
We honeymooned on a cruise that left out of Galveston, TX and stopped in Jamaica, the Cayman Islands, and Mexico. The cruise was honestly just okay. We loved stopping in Mexico and being together, but I think we would have done a single location if we could have done it all over again.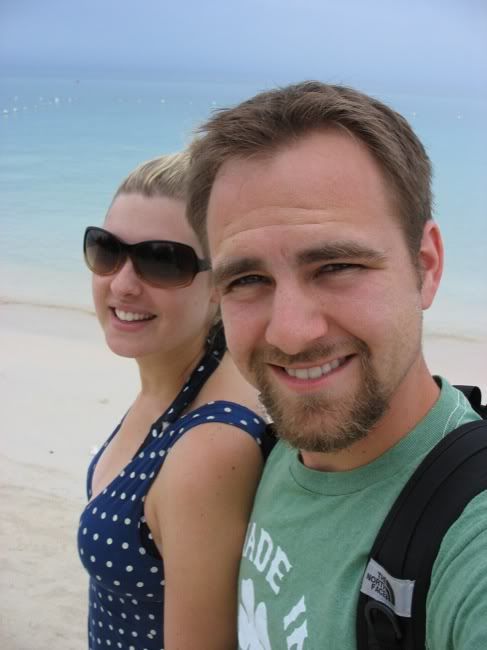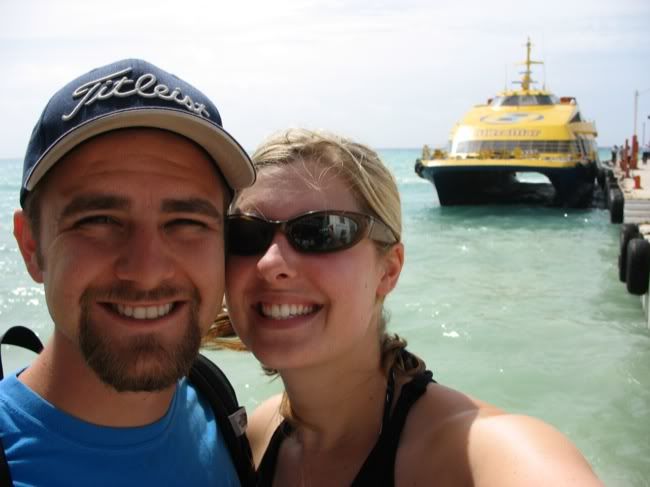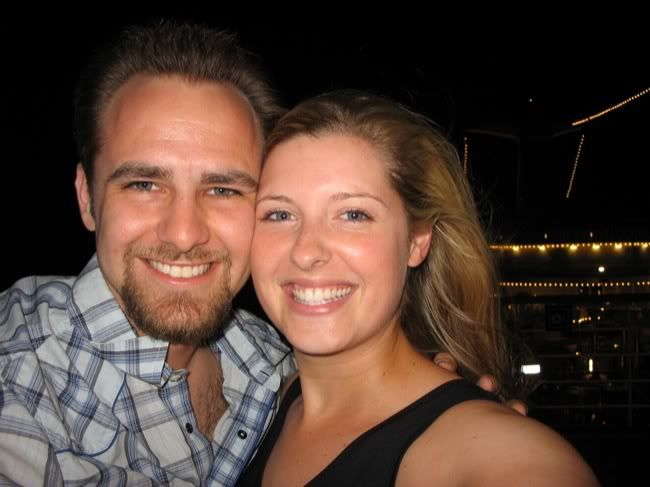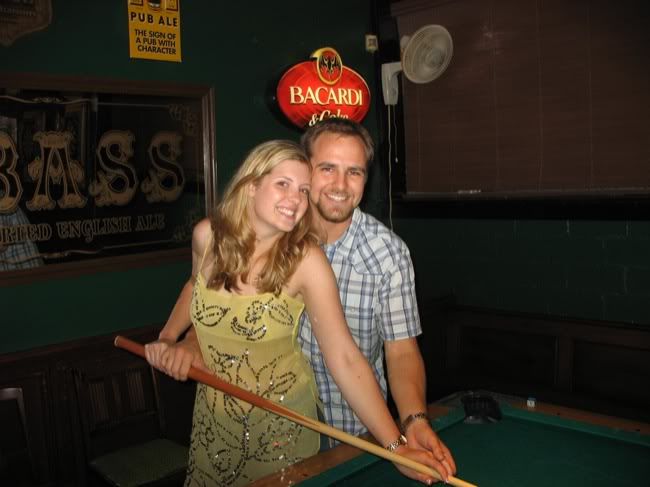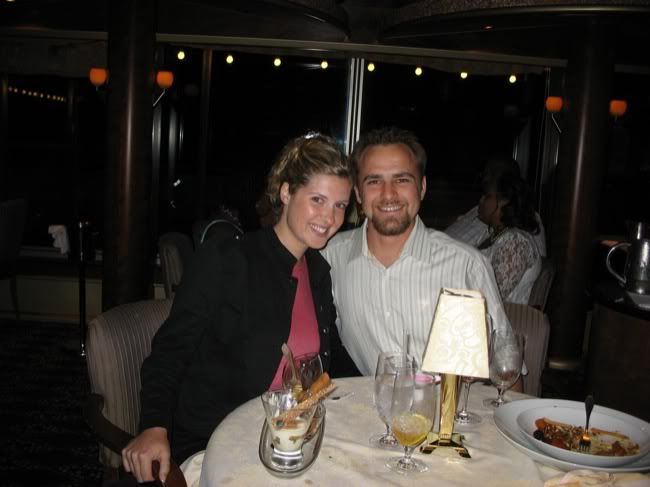 A private dinner on the cruise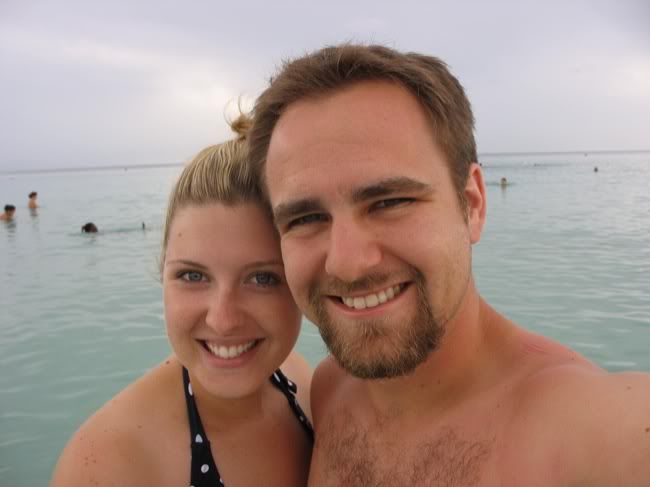 Coming back, we returned to our routine. Ritchie was still with Apple and loving it. I adored my new school. It had everything I could have dreamed about for teaching. I quickly made friends with a coworker who, over time, has become one of my very best friends, Kim. You probably recognize the name? She and I are still very close today.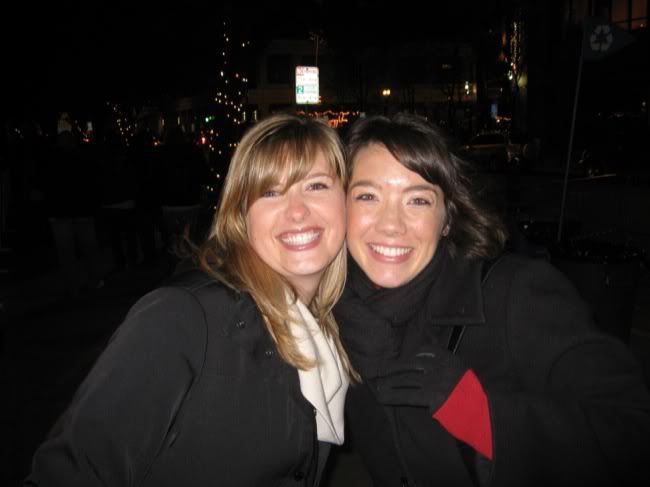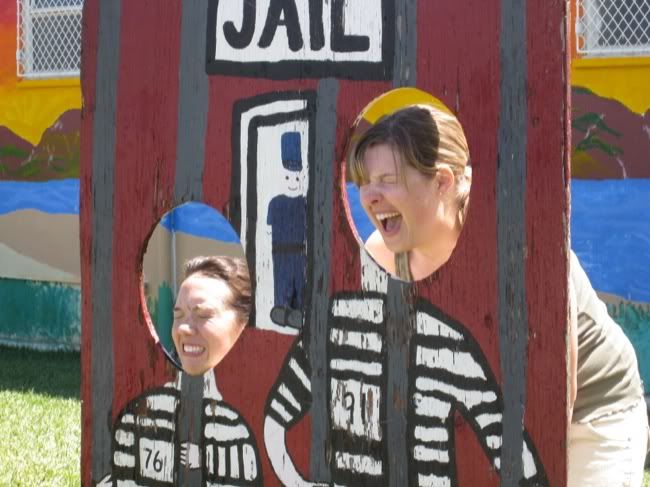 Having some "fun" at a school function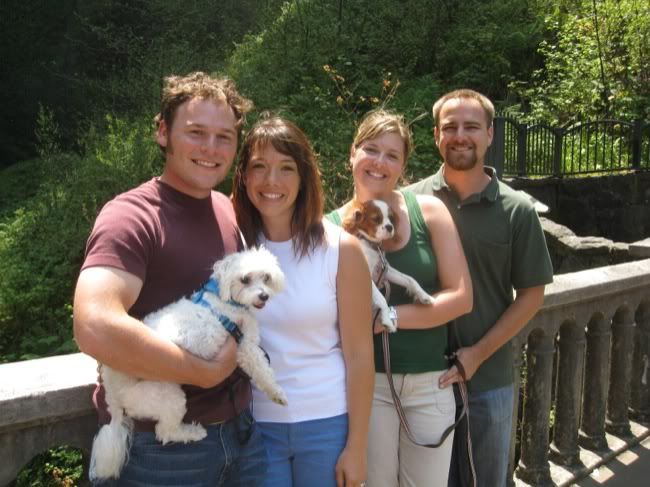 On a road trip through Oregon and Washington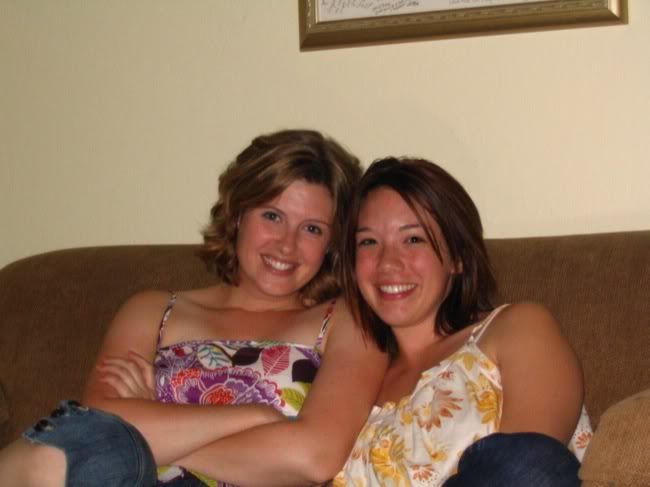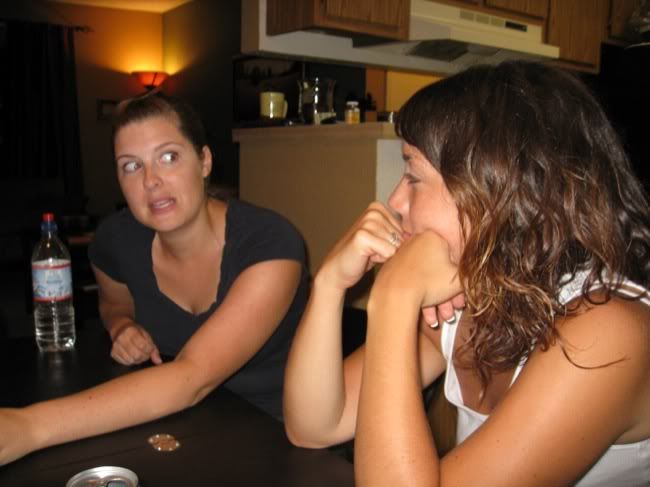 Us playing games. We may be sort of competitive. Maybe.
A trip to Tahoe. We always have fun with the Gillettes!
Towards the end of the school year Kim and I enrolled in National University to study together and get our Master's degrees. It was much more pleasant to go through the program with Kimberly rather than on my own and within a year we both had attained our goal of earning our Master's. At this time I was teaching 4th grade and really loving it. We were still living in the apartment in Willow Glen, but had begun house hunting.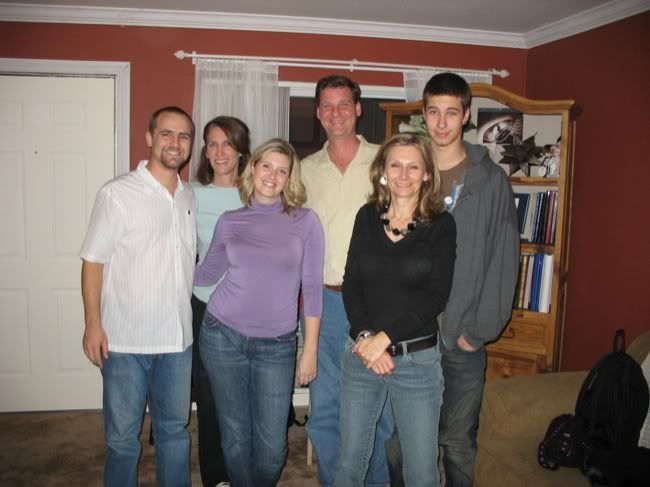 Our first married Thanksgiving we hosted in our apartment.
We rather quickly found a town home right around the corner from my mom that fit our needs perfectly. It was expensive and such a stretch for us to get in, but what in California isn't? So, we took the leap and bought our first home.
Us in the house.
And the renovations began immediately. See... we had bought a hole, basically. It needed a lot of work. And, work we did. Sweat equity I believe they call it?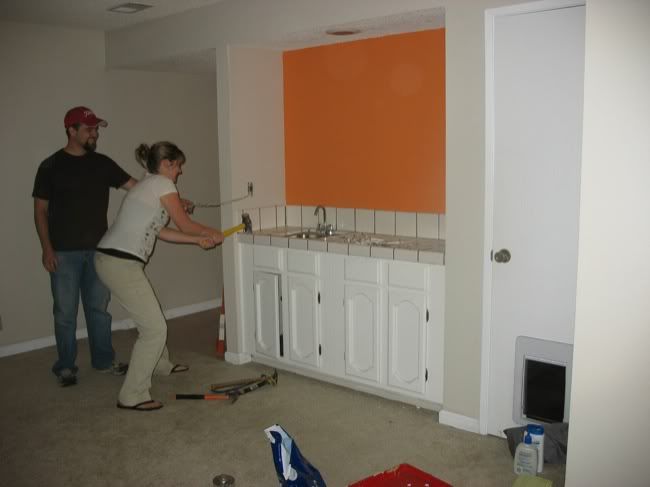 There was a very 70s orange mini bar *shudder*
We settled in and quickly decided to start trying for a baby. A few months passed and still no second line on that pregnancy test. I started to use ovulation sticks and pay better attention to my cycles but they were LOOONG. I'm talking 60 + days. It was so hard to track! Within 6 months it became clear that getting pregnant on our own wasn't going to be easy.
We did get a dog in the meantime - Gracie.
We saw a doctor and had a few preliminary things done. I had blood work done and she looked at my charts. She proceeded to tell us that we would never be able to conceive naturally. That was a really hard time for us. I cried a lot. I didn't want to give up, but I did start looking into starting adoption proceedings. Luckily, I had another doctor tell me that it was as simple as going on a medication called clomid. We tried two round of that before I finally got what I had waited nine LOOONG months for. 2 pretty pink lines.
When that second line appeared, I screamed and got all shaky. I think I went into shock a bit. But, I was thrilled. Kimberly was 3 months pregnant at the time and 5 months later my friend Kirstie got pregnant so I got to experience pregnancy (all 3 of us with boys!) with two of my best girlfriends.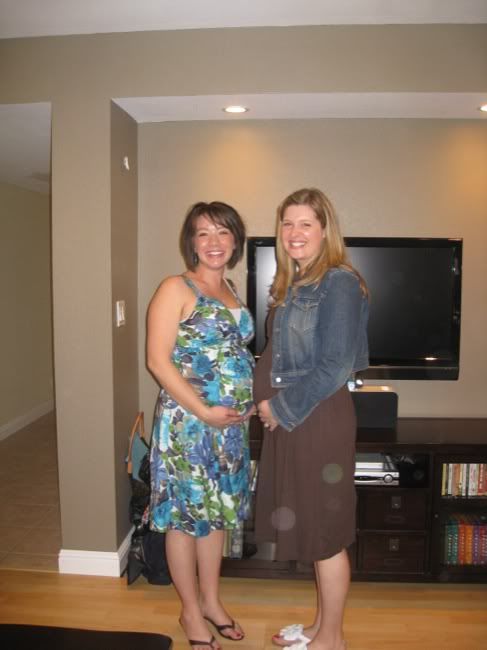 Kim and me at her baby shower.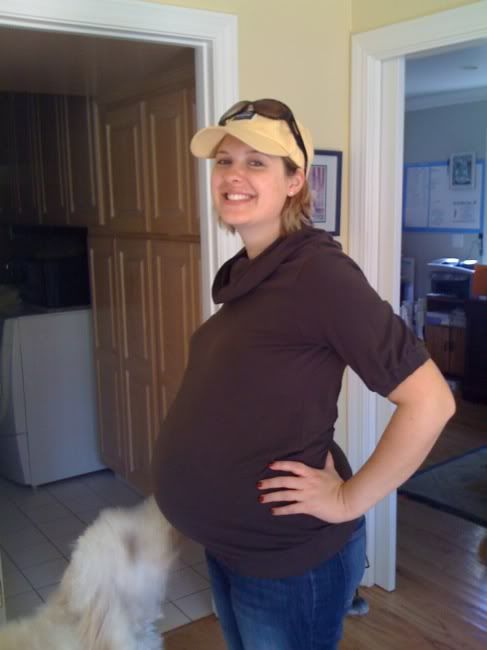 Max's pregnancy was not easy. In the beginning they thought I would miscarry because my hormone levels were low, then they could never find the heartbeat when we went in. We got a lot of ultrasounds, which I was perfectly fine with. I ended up with gestational diabetes and being induced. My birth with Max was long and laborious (ha) but the end result was this gorgeous little man whom we've fallen more and more in love with as each day passes.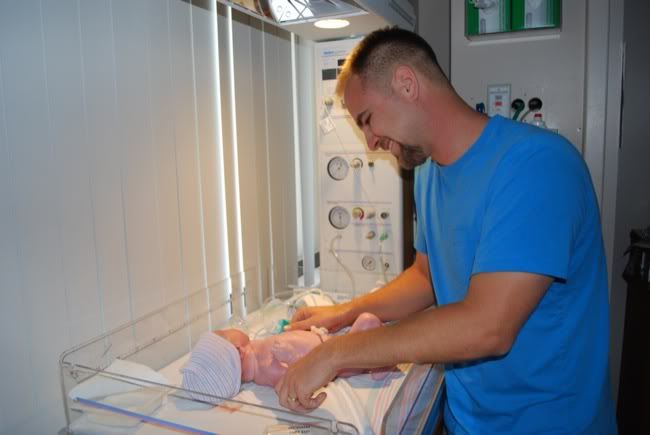 I was supposed to go back to work when he was 3 months old. But, I spent the first 3 months of his life crying and trying to figure out how to stay home. In January, with the support of the principal at my school and Ritchie I decided to take a big risk and become a stay at home mom.
We struggled through that first year on one income and blew through our savings making ends meet. Ritchie got a new, higher paying job the following year, but things were still tight. We had had to use credit cards to get by and didn't have a way of paying them off completely so we now had credit card monthly payments to make in addition to our extremely high mortgage payment and HOA. We began to think about our options of short selling our home and renting, but wanted to avoid that at all costs, so we continued to ride it out.
I sold Stella & Dot for awhile to try and help earn money, but it wasn't for me. When my heart's not in something I don't' do well with it and I certainly wasn't meant to sell anything. We basically just couldn't escape the reality that if I wanted to be a stay at home mom, something had to give.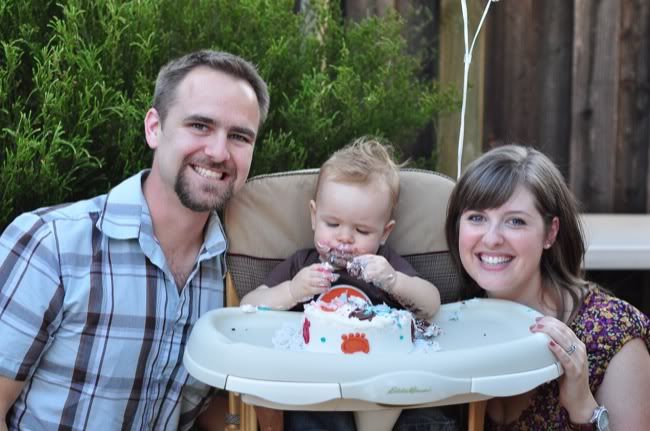 With Maxton on his first birthday
In the meantime, we started trying for baby #2. We had a couple of months with no luck and decided to STOP trying because we were approaching the time frame that would have been Max's birthday and 1. I didn't want kids to share a b-day - I wanted them to each have their own month and day, and 2. I had zero desire to be super pregnant in summer again. I did that once and to repeat? No, thanks.
Yeah... that was the month I got pregnant. So much for not being able to get pregnant on our own, huh? So, we were due in August with baby boy #2.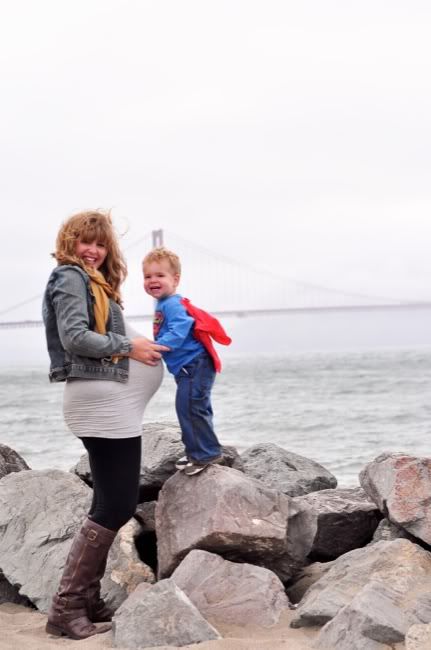 It was then that Ritchie got moved to yet another position at Apple. He had graduated college after so much hard work and it was paying off. He got a job as a software engineer. This was a huge help financially and we were able to make our minimum obligations each month. The problem remained though that we had nothing in savings and had racked up credit card debt again. So, while we could make our payments now we couldn't get ahead. Our house had also fallen victim to the declining market and was now worth well below what we payed for it. After much (almost 2 years worth) consideration we decided to put our house on the market as a short sale.
Bennett was born soon after we placed our house on the market. We had hired a midwife to do a home birth with Ben and that had all gone beautifully. It made selling our home even harder though. This was not only the home that we brought Maxton home to, but it was where we had birthed Bennett. It was where he met Max and spent the first few months of his life.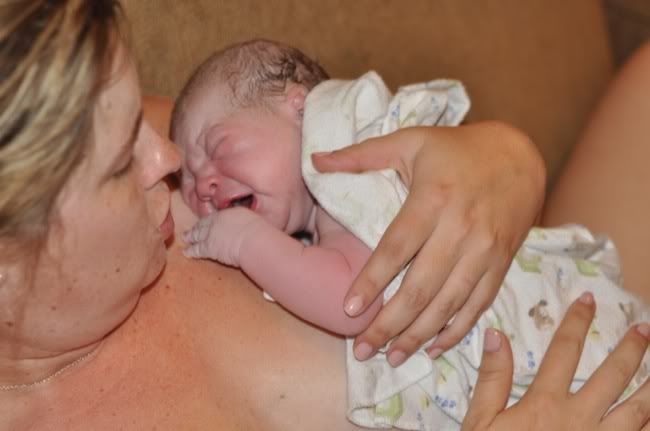 Meeting Bennett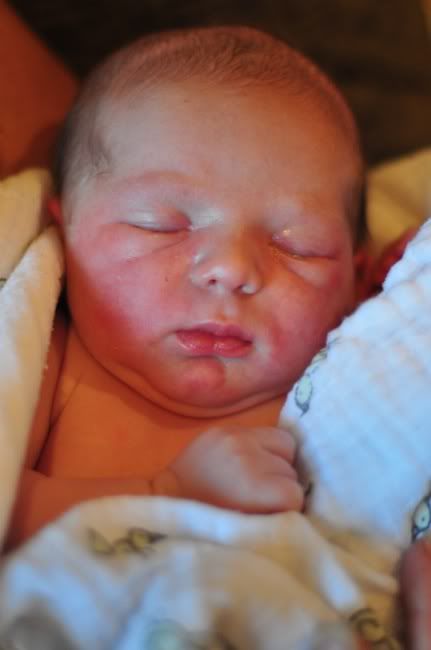 The first picture of our whole little family
Life soon got very busy with two small boys and a house for sale. Luckily, we quickly got an offer and the bank approved the amount. Things were moving forward! We began looking for rental houses and got very lucky when Ritchie's cousin told us she was renting her house out. It was a lovely little two bedroom house in a great neighborhood. We sorted out all of the details and prepared to move in 3 short weeks! Life got even busier...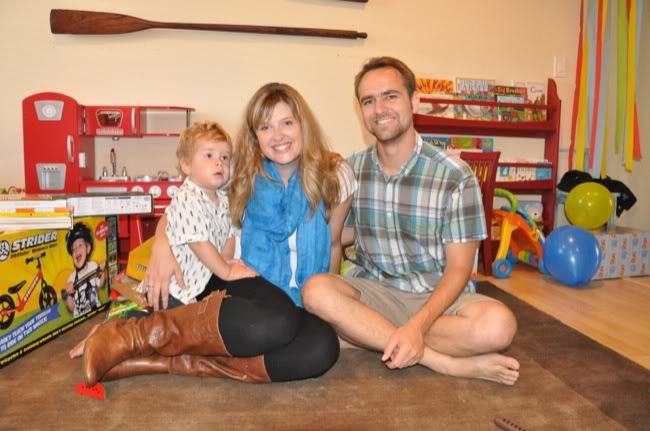 With Max on his 2nd birthday
We moved in on November 1st and soon found out that the couple who had put the offer in on our house backed out. So, we still have our house on the market, but happily reside in our rental house. It's not the outcome we were hoping for when we bought our home and put all of our hard work into it, but that's life and we've learned so much about home ownership. Mostly we've learned that it's not for us right now. We're working on building a future for ourselves that will eventually involve buying again, but not for quite awhile.
So, here we are. Building this life together. And, here I am. 30. Happily married to someone I love more than I could have ever imagined all those years ago when we decided to get married. Fulfilling my life long dream of being a stay at home mom, hard as that is some days. Always working to better myself, conquer fears, live dreams and be an example of good in the world for my boys.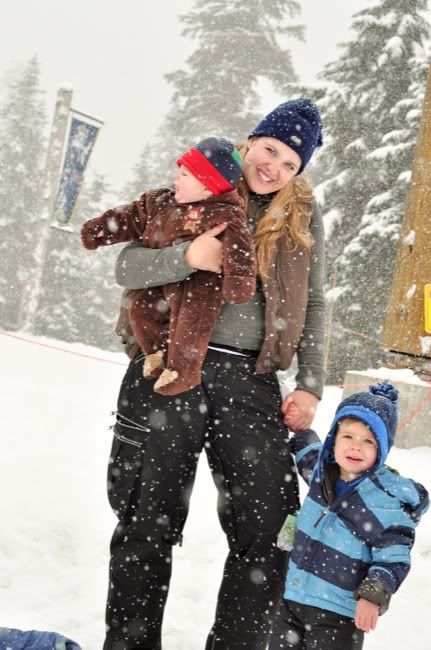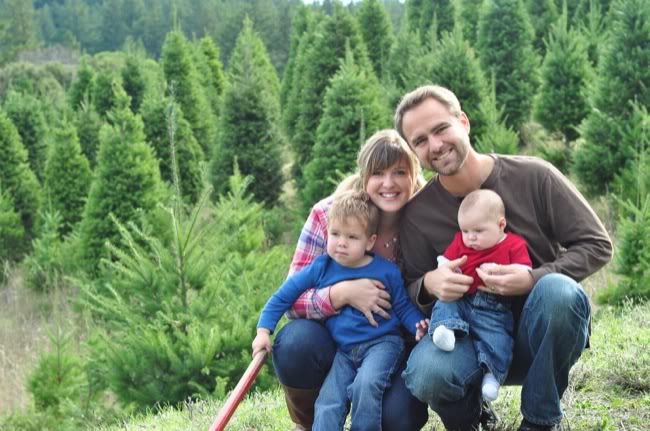 I don't know what my future holds, but I can't wait to find out.