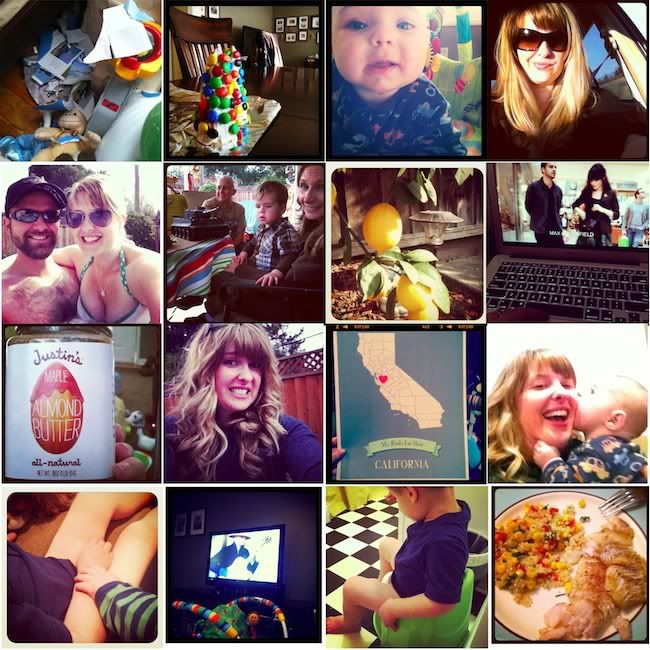 From top to bottom; left to right:
1. I found this one lovely morning. Max likes to sleep with books and he had torn his beloved airplane book to smithereens.
2. Max is always asking to "do a project wif mommy" and by that he means be given access to candy and frosting and ice cream cones.
3. Ben. Chunker. Drooler. Love.
4. I got a fresh cut and color last weekend. NOTHING feels better than being salon ready all day.
5. Except maybe a dip in the hot tub in February. Our weather has been amazing!
6. Max hanging with Grandma and Grandpa.
7. Lemons. Make lemonade. Oh wait, too much sugar.
8. I watched New Girl on Hulu. Love me some Zooey Deschanel.
9. Almond butter.... *drool*
10. Tried some hairspray guaranteed to hold curls. It made me look like a lion and an hour later my hair was pretty flat. FAIL.
11. Cute new CA map for the boys' room.
12. Ben likes to eat my face.
13. Bennett reached out and grabbed Max's arm. And I fell into a puddle on the floor. I cannot wait to see their relationship develop.
14. Max likes to watch this man play the guitar on You Tube. He wouldn't even watch Flash Mobs with me. Rude.
15. Potty training!
16. Healthy meals are the new norm around here and it feels damn good.
Linking up with Jeanette over at
Life Rearranged
! It's always fun to see what everyone does with their instagrams! Join us!