It's the week before Valentine's Day and therefore the perfect opportunity to share my third decade because it's basically my love story with Ritchie. Since I took a brief hiatus from writing these to celebrate my turning 30, take a trip, and reorganize our life upon returning home, I'm trying to remember where I left off...
I believe I was single (I hear those snarky remarks... pipe down!) for the first time in a long time. Before I can go any further I need to back up a bit and tell you that my great friend, Kirstie (we're still besties - love her!) had put me in touch with the manager at the Black Angus near my house. She worked at the Milpitas one and knew that manager. Anyway, I landed the job and began working there in the fall. I was 20 - a few months away from being 21. It was shortly after I started there that things ended with this guy I had been seeing and I committed myself to being single for awhile.
Okay - so I'm working at Black Angus and finishing my last semester at San Jose City College before starting San Jose State in the Spring. I have a blast working at Black Angus. While not the classiest of places to work, my coworkers were so much fun and we were always goofing off or hanging out. There was a particular coworker who had somewhat pathetically asked me out by inviting me to have lunch while he worked at the place where he served lunch (he worked BA at night and Pasta Pomadoro for lunches). I turned him down because I was 20 and I thought he must be at least 35 with all that facial hair and I wasn't interested in dating someone who, at 35, held down 2 restaurant jobs and that is all he did. I wanted someone with initiative and ambition.
Do you all get where I'm headed with this??
That guy, was Ritchie.
So... how did we get from, "Dude, you're old with no ambition" to "I love you and want to spend the rest of my life with you"? I mean, it's a far leap. Surprisingly, it took a grand total of about 2 months. Here's how it went down.
He asked me out (see above). I told him "Yes! I'd love to come hang at PP while you serve lunch! I'll bring some single girlfriends for you!" I was kind, but set the tone that I wasn't interested.
Fast forward a few weeks maybe? Time is hazy when you're in college and partying a bit too hard perhaps? Anyway, I'm single. After a week of that I think, brilliantly, "being single means I can DATE!" How fun is that? No commitment! No drama! Just fun out with cute guys. I asked one of my friend coworkers who she thought I could get to go out with me just to have some fun with from BA. She said she knew Ritchie had always liked me. I told her that he had asked me out already and I had turned him down because, what was he, like 35?! She about fell over with laughter because it turns out he was 19. Younger than me?! And with all that facial hair?! HAWT.
Suddenly I was seeing Ritchie in a new, fun light. He was young! He didn't have his shit figured out - that's normal! I could TOTALLY have some fun with this one. So, I started aggressively flirting, making it known that I was withdrawing my prior rejection. He took the bait and asked me to come to a party at his house on Thanksgiving. I did and that was when everything pretty much started. We spent that entire night talking and holding hands. Very innocent. The next few nights we "dated" as in went out on a few dates before basically deciding that we would be exclusive. So much for being single, huh?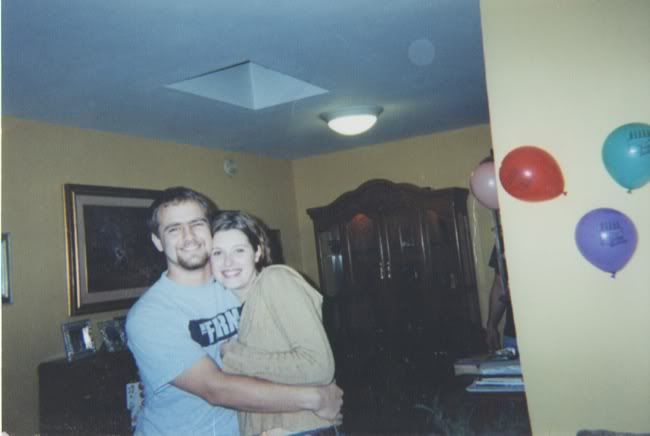 Very early on in our relationship. Look how young we look!
Anyway, at this point we were still very casual. We liked each other and spent countless hours when we should have been sleeping awake and talking to each other. I learned all about his family and history. But, one thing still bothered me. He didn't have many grand plans. It wasn't that he wasn't ambitious, but he was a bit lost. There was a lot of family history that had led him to this place of unknown. He just didn't know what he wanted out of life. I still assumed this would be a brief relationship, but I liked him SO very much. I just didn't want to get caught up with someone who didn't share my life dreams.
Fast forward maybe 3 weeks? Yes. We spent our first Christmas apart as he went to visit some of his father's family in Seattle. He returned home on New Year's Eve and I got him from the airport. From that night on, everything was different. Suddenly, he knew. He knew what he wanted and how to get it. It was like that trip had produced this unstoppable force within him. We talked all that night about his goals and dreams and they could have been coming right out of my mouth. I didn't know why the sudden turn around for him, but I didn't doubt it or question it once. Ritchie is the kind of man that when he says something you KNOW he means it. He's not good at faking emotions and if he ever lies it eventually comes out because he just has to be authentic. So, I trusted this and knew that moving forward he would make these things happen.
At a concert
Now, nobody understands what happened that night. We still don't really understand it. But, suddenly we just knew we would be together. We talked about it and it was just crystal clear to us. So, shortly after midnight, right as the year 2003 began we "got engaged". I say that in quotes because there was no proposal or ring or anything traditional. We just decided then and there that we would get married.
Now, we had been casually dating for a grand total of maybe 4 weeks at this point. This sudden realization felt right and perfect for us, but the rest of the world had its doubts. Well, to be truthful, I don't think we even told people we were engaged. I think we decided to move in together and THEN tell people we were engaged. Ahh... the mind of a 19 and 20 year old while still dealing with their parents. So, we moved in together right away and surprisingly all of our parents were really accepting of that. My dad told me, "that's fine, but label all of your stuff and NO more announcements for a long, long time" I agreed and thought, "Crap! How am I going to keep that promise?" My mom was really worried that I would play house and not finish college, but didn't try to stop us. She knew that I had to choose my own path at this point.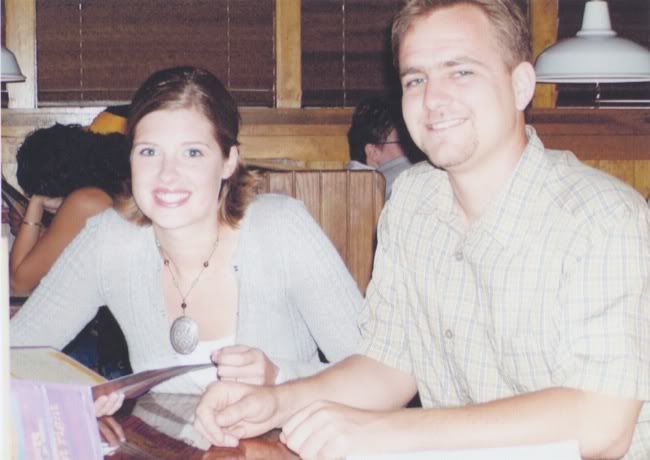 On a trip to Michigan to visit my grandma
We apartment hopped at first and settled into a place that was a bit more than we could afford on a server income. Plus, I was in school full time so I couldn't work during the day like he could AND he wanted to start college so wouldn't be able to work like he was. He felt trapped by this lease and had zero money to pay bills. We both ended up quitting our jobs in the hopes to find something that would be higher paying. We dabbled in the idea of getting our realtor licenses and Ritchie even sold something door to door for a week or two.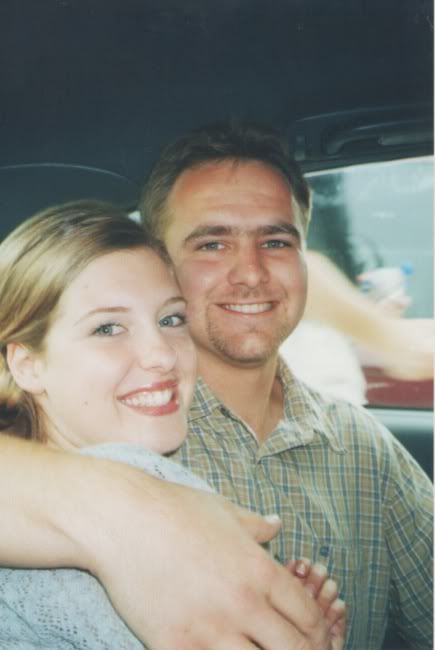 Fate stepped in and Ritchie was offered a contract position in the shipping and receiving department at Apple Computer. The pay was good, much better than anything we could have hoped for at the time and he could attend evening classes at a community college. But, we were so far behind our rent and bills at that point that we had to get out of the apartment and move in with my mom. Ritchie's mom's house was full with his other siblings and I'm so thankful that my mom saw Ritchie's potential and allowed him to live there with us. He payed her a small monthly rent and we were allowed to use two of the back bedrooms for all of our stuff.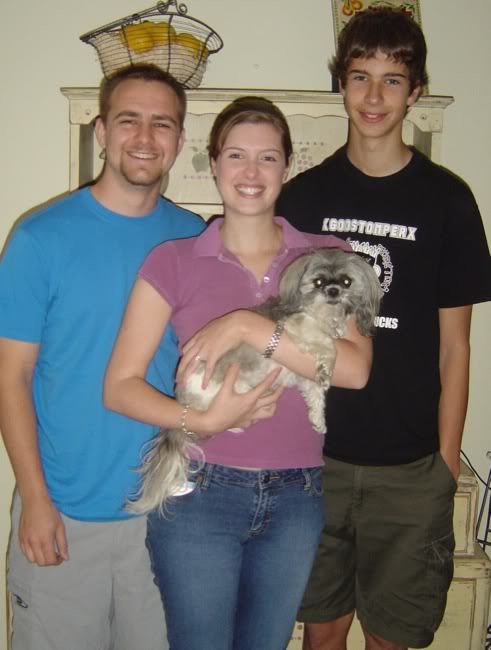 This is when we were living with my mom. Please note how freaking skinny I was. I would like to go back in time and appreciate how I looked because I'm pretty certain I thought I was some sort of cow then. (From "Wear Sunscreen" - "You are NOT as fat as you imagine" SO TRUE)
Let me back up a moment because I left out something important. Everyone did find out that we were engaged and it did NOT go well. We had planned on getting married that summer but with my parents' reaction we decided to wait until I graduated college to move forward with wedding plans. Ritchie had gotten me a ring and we called it a promise ring to keep everyone happy. We were disappointed that everyone didn't rejoice in our love the way we did, but ultimately understood that from the outside looking in it seemed ludicrous. We were fine to wait and just carried on with our relationship.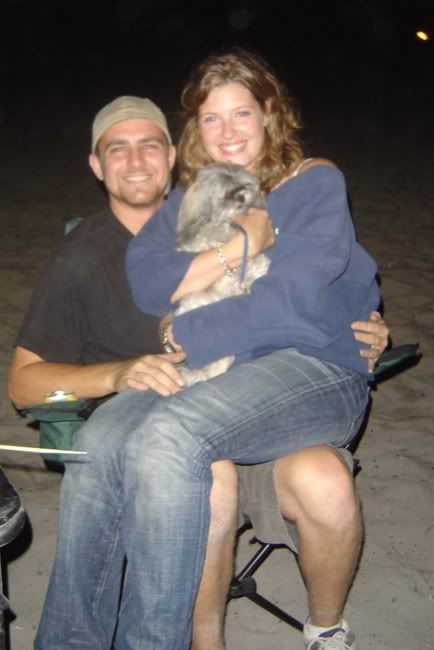 So... we're living at my mom's, I'm going to San Jose State, and Ritchie is working at Apple and attending some classes in the evening. I'm going to take a little break from our relationship to talk about some friends that I had during this time.
At SJSU I changed majors three times before settling into Child and Adolescent Development (CHAD) and in that department I met two amazing girlfriends! Shannon, Rachel and I had several classes together and we began to always sit together, then walk together, then meet up before or after for lunches or coffee. I used to hang with Rachel at her apartment pool and we used to all go out with our husbands in tow to play bocce or have dinner. I loved those girls (still do!) and they aided very much in my survival at SJSU.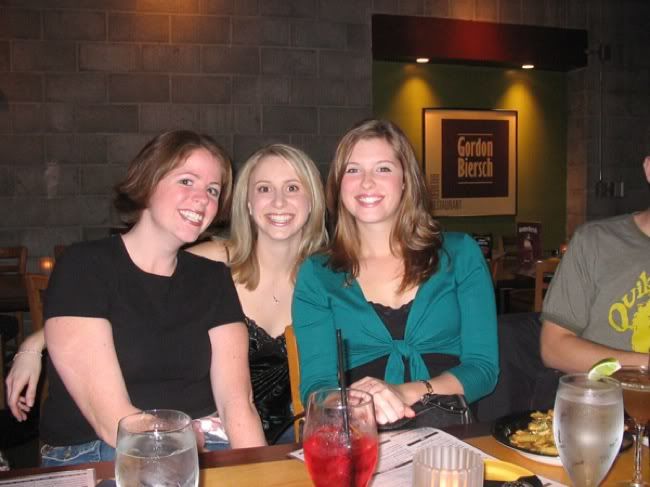 Shannie and Rach!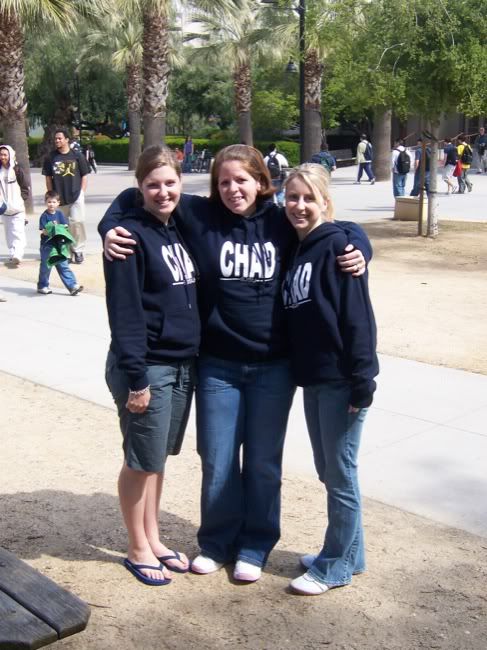 We designed those sweatshirts. We're super cool.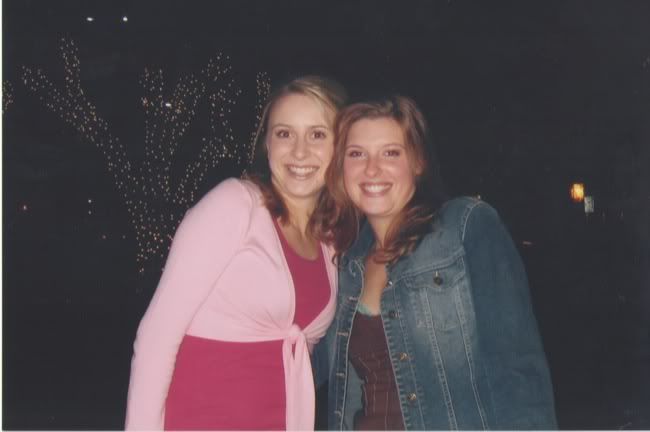 Shannon and me
I also began to spend a lot of time with my friend Rebecca, who you might remember from the second decade. We had met at the pool where I was a lifeguard two + years ago. She and I started hanging out regularly both in the hopes of soon planning weddings together.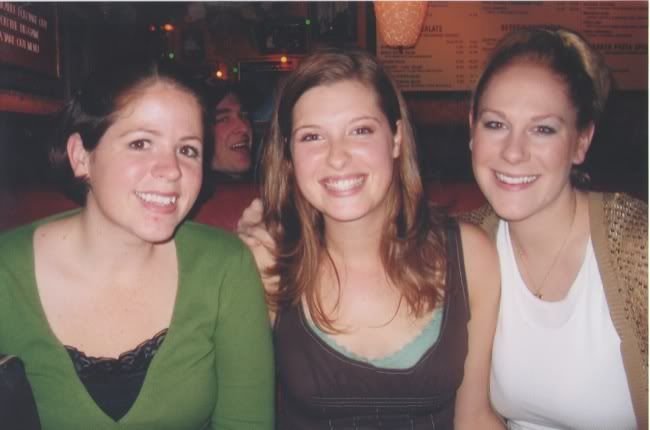 Rach and Rebecca and me
Things remained status quo for quite awhile. I had odd jobs nannying and babysitting here and there and Ritchie was doing wonderfully in Apple. He had been promoted from a contractor to a full time employee. Classes were going okay for him, but he decided to begin online school so he could work at his own pace.
In my senior year of college, on our 2 year dating anniversary, Ritchie took me to see "A White Christmas" in San Francisco after a fancy dinner in Los Gatos. It was a magical night and we had been talking for some time about making our engagement "official" and really planning our wedding because I would be graduating in 6 months. Ritchie had really wanted to do things "right" and surprise me with a proposal and ring (that was different from my promise ring). I waited ALL night for that proposal. Finally, as we got home I gave up. I figured it was too cliche for him to propose on our anniversary and so, disappointed, I went and changed into my pajamas (even though I had planned the perfect getting engaged outfit - whatever). When I came back into the living room in my PJs, Ritchie was waiting on one knee out by the Christmas tree. He had put the ring on an ornament that belonged to us from our first Christmas together. I honestly can't even tell you what he said because I was so excited but it was very sweet and lovely.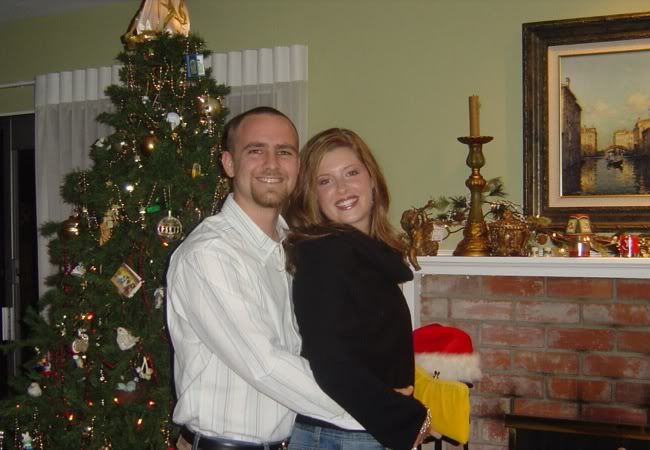 The night we got engaged
Some smooching
I'm going to leave off there. We'll start Part 2 as a newly betrothed couple :)